F-Airways unveils the sky adventure
View(s):

Sri Lankans are blessed to have a landscape that takes us from misty mountains and lush valleys to sun-kissed beaches within a day. However, getting there by road still continues to be a hassle in terms of time consumed and facilities on the way. It is in this regard that F-Airways (Pvt) Ltd, having earned the prestigious Air Operator Certificate, presents the 'not-to-be-missed' domestic charter operation with a range of aircraft and packages to select from.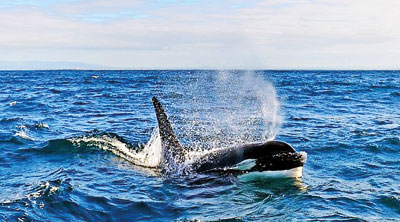 F- Airways brings to the skies the 5 seater Cessna 206 and the 3 seater Cessna 172, both of which will operate from the Ratmalana and Koggala airports.
Whale watching by air in Sri Lanka is an amazing activity to partake in. Observing the majestic nature of the largest mammal in the world, the Blue Whale, from an aerial point of view leaves passengers with an incomparable experience and understanding of the true magnitude of the beauty and grace of the species.
F-air's Whale Watching and scenic South flights operate from the Koggala airport on a daily schedule at 8.00 am, 9.15 am, 10.30 am, 11.45 am, 1.00 pm, 2.15 pm and 3.30 pm . Ticket cost per person is US$150 ($100 per kid between ages 3-14) and the flight will be 45 minutes.
The scenic hill air tour is a must do for many a reasons and here are some of the delights that await you enroute to the central hills of Sri Lanka. The central province of Sri Lanka is home to majestic misty mountains covered in verdant greenery the whole year through. The sprawling tea plantations and the splendid sight of the morning sun rising over the mountain tops is a 'must watch' that should be on any travel bucket list.
The scenic hill tours operate from the Koggala and Ratmalana airports at 8.00 am, 10.00 am, 12.00 noon, 2.00 pm and 4.00 pm. The ticket cost is $250pp ($150 per kid between ages 3-14) and the flight will be 1 hour and 30 minutes.
Whale Watching and Scenic South flights and Scenic Hills flights can be reserved on-line from www.f-air.lk
F-air Charter Flights travel from the Koggala airport to Weerawila, Ratmalana, Mattala, Katunayake, Sigiriya, Ampara, Batticaloa, Hingurakgoda, Anuradhapura and Trincomalee. Flights from the Ratmalana airport will travel to Katunayake, Koggala, Mattala, Sigiriya, Weerawila, Anuradhapura, Ampara, Hingurakgoda, Vavuniya, Batticaloa and Trincomalee.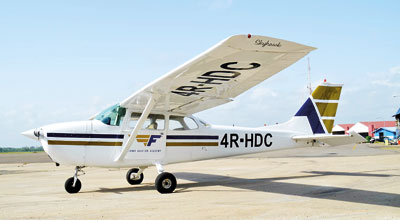 The Cessna 172 seaplane, which will join the fleet soon will operate from Koggala Lake and to Bentota, Nuwara Eliya, Castlereagh, Kandy, Arugam Bay and Waters Edge, thereby reaching places where no air fields are available, and expanding destination choices for the travellers.
The variety of aircrafts available and the seating options enable the airline to provide customised travel to the passengers. The Cessna 172 is ideal for a couple who wish to literally fly away on a romantic holiday. The Cessna 206 with 5 seats can cater to small families or a group of friends, whereas if the group is bigger, customers can opt to book both aircraft.
F-air offers spend the day tour packages, 'Fly and Safari' combines an air trip from Ratmalana or Koggala to Weerawila and from there on a safari jeep ride through the Yala or Bundala National Park or to Sigiriya and a safari jeep ride through the Minneriya or Kaudulla National Park from there onwards.
'Fly and Explore Cultural Sites' combines an air trip from Ratmalana or Koggala to the ancient cities of Anuradhapura, Polonnaruwa, Sigiriya and Dambulla. Spend the day tour packages of F-air, operating from Ratmalana and Koggala in the morning hours will allow tourists in Colombo and Galle to go for a Wildlife Safari or to visit cultural sites and return to Colombo or Galle in the evening.
A release from F-air stated that it can also arrange special flights for special occasions such as birthdays, anniversaries and other special events.
For online reservations log onto www.f-air.lk and the E mail -Info@f-air.lk