Showcasing Italy's creative legacy
View(s):

The 'Iconic Italian Design Exhibition' held at the Academy of Design (AOD) in Colombo last month as part of the 'Italian Week' drew a diverse audience of diplomats, entrepreneurs, designers, architects, academics as well as young students.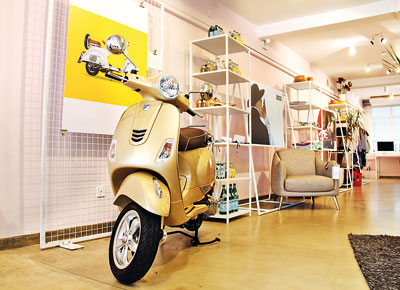 The exhibition that focused on the most iconic elements of Italy's creative legacy, the leading brands, and the who's-who of Italian design including industrial design era innovations like the Vespa and legendary designers like Prada that put Italy in the map in terms of creativity, was arranged by the Italian Embassy in Colombo in collaboration with AOD.
The Embassy recognised 'design' as one of the most important facets of Italy, considering the influence that design has had in establishing a thriving sector of creative industries in Italy that have had a massive impact on the nation's overall economy.
Italian Ambassador Paolo Andrea Bartorelli, Deputy Ambassador, Allegra Baistrocchi, and AOD founder Linda Speldewinde were among those present at the exhibition. "With the Iconic Italian Design Exhibition, we saw an opportunity to share knowledge on an important global design culture, and make an example of how a powerful creative industry can influence a country's economy and national identity. It is an inspiring insight that falls very much in line with how we plan to mobilise design, innovation and industry in ways that impact South Asia," AOD head Linda Speldewinde said.
AOD's events director, British designer and curator Karen MacLeod stated that Italy's creative evolution was one of the most fascinating in the world, considering that it is one of the rare few countries where the creative arts received major support from the state and the commercial world for centuries, allowing a thriving creative culture to take root there.
"From as far as the Renaissance era, Italy has had serious support to its creative arts, which makes it a very interesting study in how that kind of patronage would influence a powerful creative economy. Centuries later today, the 'Made in Italy' label is still synonymous with superior craftsmanship and design all across the world, which goes on to say what an impact it has had. So, our mission was to highlight the most iconic elements of this amazing creative nation, and how they influenced in establishing Italy's world famous identity as one of the most potent influencers in the world of design."