'Buongiorno Singnore…. Buonasera Signoreena'
By Sanath Weerasuriya
Gypsies dance between Rome and Colombo
View(s):
After a lapse of four years, Gypsies led by Sunil Perera along with Maxi Jayaweera released their very latest hit 'Buongiorno' last week.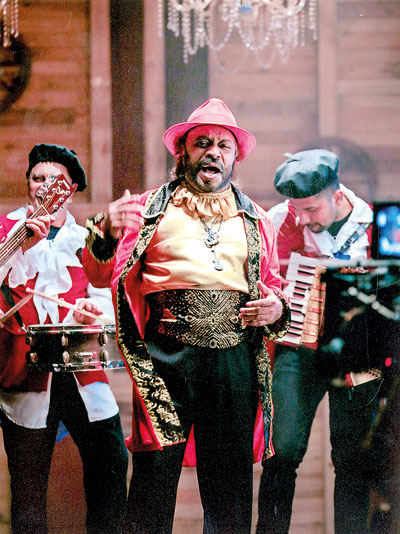 The song 'Buongiorno' revolves around Sri Lankans wandering to Italy looking for greener pasture. The lyrics were penned by Maxi himself and the melody for 'Buongiorno' was created by Maxi too.
Even though the audio version of 'Buongiorno' is all about Italian saga for Sri Lankans living there, the video was crafted based on rich Italian and Roman Cultures not forgetting to highlight the characters of Cleopatra and Julius Caesar.
Sunil portrays the Character 'Zorro' from the film 'The Mask of Zorro'.
'The uniqueness of this song is that two different themes are narrated in video and audio tracks. The audio relates the social problems of Sri Lankans going to Italy, while video portrays the real Roman and Italian societies from centuries down the line' said Sunil Perera.
Cleopatra was played by Maneesha Perera and a fomer Gypsies drummer Nihal played the role of Julius Caesar. Dancer Nishan Peiris played Mark Anthony in the video. Mahi of the band 'Doctor' played the role of Leonardo da Vinci, while Galileo Galilei was played by Darren of 'Grace Band'.
'Buongiorno' meanins 'good evening' in Italian and the epic elite society was recreated at the 'Barn House' Resort in Panadura for this massive video production by Thaala Roopa Revolution.
'Buongiorno' is Sunil's first song after 'Kussiya' and 'Koththamalli' and the first hit after four years under the Gypsies label.
The music arrangements were created by Dushan Jayathilaka and mixed and mastered by Gayan Udawatta for 'Buongiorno'. The video was directed by Chamil Pathirana while costumes were designed and created by Rosemarie Perera, Manisha Perera and Charmie Obesekera for the entire production of 'Buongiorno'.
Apart from Sunil and Maxi, Piyal, Monic, Lanthra and the Gypsies rendered their voices to 'Buongiorno'.
The Gypsies line up now comprises frontline singers Sunil, Piyal and Monic, Kamal Perera on lead guitar, Dushan on keyboards, Lal Welivita on drums and Sheshri on bass.
'Buongiorno' is now available on 'you tube', on the web and has been released to all television and radio channels in Sri Lanka.
To watch the 'Buongiorno' video by Gypsies and Maxi Jayaweera, log onto www.sundaytimes.lk for the link.