Bring to life the tale of Sinhabahu
By Nirmalie Alahakone
View(s):
The students of the Arpeggio Creative Dance & Drama Academy (ACDDA) headed by Nilan Maligaspe are practicing for their take on Sinhabahu to be showcased on July 8 at the Lionel Wendt at 7 pm. It's going to be a modern, or contemporary interpretation, in ballet format.
"Dance is a very important art, but a lot of people see our costumes and come to conclusions. We are not taken seriously,"  says Chamitha Sewwandi, 16, who plays the role of Sinha Seevali. "There's a lot of negative perceptions. I really want to change these misconceptions," she adds earnestly.
Chamitha has been with Nilan's Arpeggio Creative Dance & Drama Academy (ACDDA) for six years. She loves all dance forms. The role I'm playing this year is a big one, but in future, I want to play stronger female roles where I can showcase their strength more. I want a role I can play with passion and energy, she stresses.
Nilan has been teaching dance and drama for 24 years. His students are mainly from low-income households, urban, suburban and distant provinces. They are usually referred to him by someone who spots their talent or audition when he advertises in the newspaper. Some meet him through the Warehouse Project in Colombo where Nilan volunteers his time.
"These children are truly talented, but have no financial resources. My aim is to set them on a path that will carry them forward. Some of my students started with me at 5 years. Three of the main roles in this year's production are portrayed by children who come form line homes in Colombo."
When putting together a show, all children participate in numerous capacities. Some provide input in costume design. They take into consideration the period the performance is based in. "This year's production, Sinhabahu, is a contemporay and ballet mix set against a modern backdrop. Without doing harm to the storyline we have modified costumes," he points out.
Madushan, 26, is an IT undergraduate at Kelaniya University, who works part-time and has been with ACDDA for 9 years. He plays the role of the lion. I really want to do justice to this role, he says. I am thankful to Nilan Sir's dedication in introducing us and developing our talent in these dance forms." He hopes to pursue his love for contemporary and ballet dancing abroad, and has even received offers of scholarships.
Nipuni, 18, who plays Suppadevi, has been with ACDDA for 10 years. "I love dancing. After my A/Levels I want to start a dancing class of my own with Sir's support," she smiles.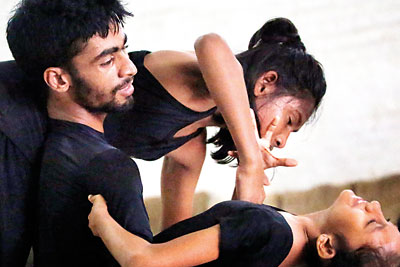 Kaushan Jayaweera, 18, from Maradana, works in Narahenpita, is playing Sinhabahu. He's been with ACDDA for 6 years. "At first when I started coming for classes it was hard to be consistent in attendance. The training is very vigorous and I wake up the next day with body aches. But gradually it became part of me. I don't ever want to stop dancing," he smiles. "I think an artiste contributes immensely to society, and that spurs me on. With busy schedules earning a living, people need art to help them relax, but also to think."
Harsha Anuruddha, 19, works  in a computer shop, is a back up dancer in this yer's production. "I started out studying music. Then I did Kandyan and low-country dancing in school. A lot of people stay away from dancing because of the exercise and sweating involved. If you don't stay in form it's very hard to develop as a dancer." Harsha comes home from work between 10-11pm. But finds the time to practice. He also loves photography. Asked what field he would like to focus on, he's determined to pursue all his passions while working.
Manoj Dev, 16, is a student from Yatiyanthota, who has won awards at the All-Island dancing competition three years consecutively. He loves ballet and Sabaragamu dance forms. "I saw an advertisement in the paper about Nilan Sir's dancing academy and auditioned. I dance at home too; dance is very beneficial for our health," he says with a smile. After a late night's practice session, he has to travel far to get home. He wants to attain Panibharatha status.
Nilan himself started with breakdance before moving to miming. "Then I got interested in ballet. It's a little more advanced. It can convey a message, not purely entertainment. It's a powerful medium that can enable people to think." He wants to pass on what he learnt, "There is discipline in dance."
Nilan is doing all he can to promote the introduction of ballet in schools. "It's a very creative dance form. Ballet can push boundaries and evolve unlike traditional dance forms like Kandyan and Sabaragamu."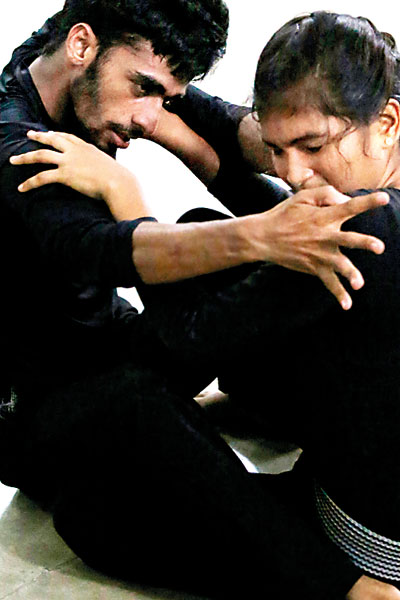 Last year's production, Kuveni, won Nilan a lot of awards at the Sri Lankan Ballet Festival. "This is one of, what I think are, the three major stories in Sri Lanka. This year I cover another one, Sinhabahu, and my hope is to do the third next year when we turn 25, Maname."
He is assisted by his past student Pathum Weerasinghe in script, and Sanjeeva Paranamana as musical director.