Incident at the cinema
Flash Fiction
View(s):
This very short story shows through an incident how we really don't understand what other people are going through simply by appearance alone.  It does not say so, but this theme comes through the actions depicted. Please send in your flash fiction contributions to  Madhubashini Dissanayake-Ratnayake, C/O The Sunday Times, No. 8, Hunupitiya Cross Road, Colombo 2 N.B. Work sent to this page may be edited.
Last Friday evening I went to the cinema with my wife. The hall was crowded, people chatting loudly and children running here and there till the movie was started. And the theater was playing the song "Say Something" by Justin Timberlake in full blast.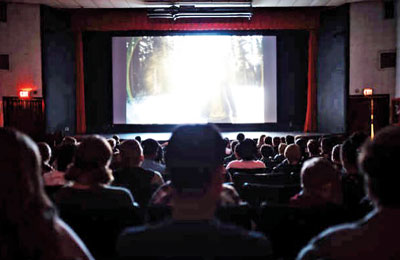 My wife sat on my right side and there was another couple in the front row of us. The movie started at sharp 6.15pm.
During the screening of the movie the couple in front of us started chatting to themselves. It seemed that the lady was answering the gent's questions.
"What is this nonsense, I can't follow this story with their chitchat" my wife Jennifer complained to me. "Ignore them and try to watch the film" I told her.
Of course, they were diverting us from watching the movie.
Most of the time they had been chatting and continued it till the end of the screening.
We spend an hour and a half in despair in that hall, unable to listen to the dialog properly as the couple distracted us. At last the movie had ended and we started walking slowly to the notice displaying 'EXIT' in green color.
I looked at the couple who were walking just in front of us & who had disturbed us so much in that little time.
The lady was holding the gent's left hand & she was leading him to the exit. The gent was wearing a pair of dark glasses, I noticed much alarmed.
And I saw another thing that stopped my heart.
In that dusky light I saw him holding a gleaming white cane by his right hand!
- Rodney Jayasuriya