Revisiting university with 'Rag-the Musical'
By Shakya Wickramanayake
Cast of CentreStage Productions speaks to the Mirror Magazine on the latest take of their home-grown musical which will get underway this week
View(s):
Over twenty years ago, a young Jehan Aloysius received a letter informing him that he was accepted to a state university. An honour most students vie for but very few succeed. Rather than celebrate, Jehan's first reaction was that of fear, which lead him to hide the letter. But despite his efforts his mother found the letter and forced him to enroll at the University of Colombo.
"You see in that year two students had died as a result of ragging," he says, explaining how the fear of being subjected to the same, motivated the many excuses he made to try and avoid attending university and even causing him to stay away from orientation.
In hindsight however, it didn't seem too bad. The way he speaks of it, one can gather that has truly embraced university life, warts and all. Whilst still at university Jehan began writing a musical based on his own experiences and those of his batchmates. 'Rag – the Musical' follows the story of a young idealist named Joseph, who is accepted to a state university and is soon hit with a heavy dose of realism as he navigates through university life. Grappling with issues of ragging and student infighting, Joseph, who is loosely based on Jehan himself, has his dreams of peace and discourse challenged. "It's a celebration of university life, not just the horrors, we want to show both the fun and dark sides to it," Jehan tells us, insisting that it is an objective look into the issue of ragging.
Jehan explains that he chose to present it as a musical rather than as a play, as he believes that music transcends languages and makes it easier for audiences to digest the hard hitting subject matter. "You temper the violence and horror with music," Jehan says matter-of-factly. The musical is set to be performed against a very utilitarian and sparse set, with mostly scaffoldings used as props and actors dressed minimally. We're told that this sparse setting helps audiences to focus more on the storyline rather than be distracted by the frills. This however, also demands more from the actors who are now tasked with immersing the audience in the story with very little aid from the sets and costumes.
Over a decade in the making ,the dark musical first saw light in a series of preview plays, before being presented as a full blown production in 2012. It received praise and positive reviews for its portrayal of the issue. But Jehan, since then has ended up constantly tweaking it. The result of which is the 2017 remake of the musical, that explores fewer characters and is a good forty minutes shorter than the original. "Theater is organic, its not static," he explains.
Jehan hopes this portrayal of the systematic and institutionalized bullying, torture and humiliation seen unfortunately in state universities will create debate around the issue. Perhaps even open the eyes of those who live a sheltered life to the extent of the horrors many undergraduates must endure. "Theater is about creating characters, people can relate to and empathize with," says Jehan. He believes theater shouldn't be used just for the purposes of escapism, but should also be used as a platform for social commentary.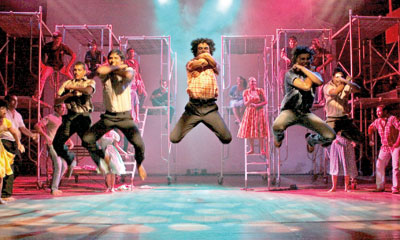 Previous productions of the play seem to have resonated well with those who have experienced ragging first hand or have watched loved ones go through such an ordeal.
" Parents have written to me saying this is what my child went through, we've lived through this," Jehan recalls. The play, which is a work of fiction, delves so far into the root of the issue that it has become eerily prophetic at times.
Playing the protagonist Joseph in this year's remake, is new comer Dion Nanayakkara (21). This will be the youngsters debut performance. Like the character he's playing Dion is currently a university student, but unlike his character he does so at a private institution in Colombo, instead of a state university. Dion describes his character as a dreamer who's got big vision and essentially lives in the clouds. "His driving force is peace and love. He wants to end all wars," explains Dion.
But the young undergraduate is wary of university life choosing to skip orientation as well, much like what the writer himself did. But soon he meets the lively and loveable Thomas, who takes Joseph under his wing. Thomas, who is played by Julian Anderson (23), is described as an amicable personality who gets along with everyone. "He's a happy go lucky character. He sees the world in all its colours, not just black and white," says Julian about his character Thomas.
Thomas makes Jospeh feel welcome at university and soon the two form a strong bond of friendship. "There's a brotherhood between them," explains Dion.
Aside from Dion and Julian, the other key singing roles are played by Keminda Heethawaka Arachchi, Stigmata Frontman Suresh, Tanuja Perera and Dmitri Gunatilake. The music which is written and composed by Jehan Aloysius will be performed by Avanti Perera. The production's choral arrangement is by Deshan Cooray and Eshantha Peiris.
'Rag – the musical' presented by CentreStage Productions goes on the boards of the Lionel Wendt Theatre on November 2, 4 and 5 at 7.30pm. Tickets priced at Rs. 3000, 2300, 1500 and 850 are available at the Lionel Wendt Theatre. The play discusses and depicts mature subject matter and therefore maybe unsuitable for younger audiences.