Making Musical Magic at Spellbound 2017
View(s):

'Spellbound 2017',one of the most innovative and unique school concerts, organised by St. Peter's College, Colombo will be held on Sunday, the 29th of October 2017 from 6.30 pm. onwards at the Quadrangle, St. Peter's College.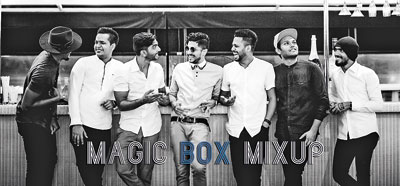 Spellbound 2017 focuses on bringing together generations of Peterites to perform their various talents, music, dance, etc., which will guarantee an evening filled with joy, happiness, wonderment and bring fond memories of yesteryear. This spectacular production promises to make it an evening not easily forgotten.  To add even more sparkle to the proceedings, four of Sri Lanka's most popular bands, consisting Peterite representation, namely Magic Box Mixup led by Shaun Perera, Doctor led by Lantra, 2FORTY2 with Billy Fernando and Wildfire will perform.
Magic Box Mixup is one of the top bands performing at this Concert. If you are the sort that enjoys live music and have been out and about in Colombo, then you would be familiar with the sounds of the popular band Magic Box Mixup(MBM). Starting off as a concert band in 2005, playing mainly at school events, and then winning the People's Choice Award and Best Musician for founder Shaun Perera at TNL Onstage in 2006, this group has rapidly gained popularity and is now one of the frontrunners in the English music industry in Sri Lanka.
So what about this unusual name 'Magic Box Mixup'? Well, it all started during an episode of the well-loved comedy 'Friends' when Phoebe sang a song called 'Magician's Box Mix-up'
To begin with, the seven musicians hail from various backgrounds and do very different day jobs. Shamin de Silva, the band's leader and guitarist, is an Audio Engineer at Dynamic AV Technologies, while vocalist Shaun Perera is a Sports Teacher at Elizabeth Moir School. Working as a Software Quality Control Engineer at Millennium IT is bass guitarist Justice Gnanamuttu, while Drummer Jimith Sirinandane is still a student. Guitarist Dulag Perera is Sri Lankan rugby player, keyboardist Gayan Fernando is a recording engineer. The only full-time musician in the group is percussionist Guyrika Weerasinghe, who is also an event management consultant.
Matching this 'mix-up' of musicians is a melodic mix-up of music. Theirs is a set-list that dips in to a range of musical genres including pop, adult contemporary, alternative, rock, funk, soul and dance. It is a mix of popular hits and personal favourites. As they proudly affirm, "We play anything from Imagine Dragons to Jackson Five!"
Anyone who has heard Magic Box Mix-up knows that they are not your regular run-of-the-mill club/lounge band. While they do specialise in covers, each song is given that special MBM touch. Being one of the few bands in Sri Lanka who started only with guitars as rhythm instruments recently added keyboards, theirs is a raw and natural sound. They also welcome other musicians who are in the audience to jam with them, adding an element of surprise to their performances.
Their Manager, Neville Perera, has been with them from the very inception.
'The group is also very grateful to veteran musicians Piyal Perera for his support, Aruna Siriwardane for his pivotal role in securing their Friday night gig at long bar Waters Edge' Neville said.
| | |
| --- | --- |
| The tickets are priced at Rs. 1,000/ Rs. 1,500/Rs. 3,000/- and Rs. 5,000/ | |
| | |