Ramoji Film City invites Lankan filmmakers
By Nalin Balasuriya
View(s):
Guinness world record holding, the World's largest Film Studio complex, Ramoji Film City at Hyderabad in India invites Sri Lankan filmmakers to do their Sri Lankan films there.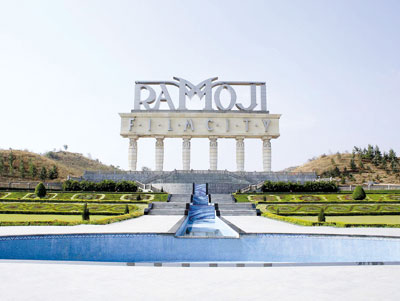 With the motto as the only place in the world where one can walk-in with a script and walk-out with a canned film, the film city covers a massive 2000 acre area with various services including film locations representing any part of the world, and studios, recording stations and theatres where films could be screened.
"We are inviting Sri Lankan filmmakers to come here and do their films," says Rajeev Jalnapurkar, Director Ramoji Film City.
Mr. Jalnapurkar said this to a group of Sri Lankan journalists who visited the world renowned film city. The tour was organised by the Indian High Commission and Indian External Affairs Ministry.
Set up by Ramoji Group in 1996, Ramoji Film City is a one-stop destination for film-makers, providing comprehensive infrastructure and world-class facilities for pre-production, production and post-production.
Recognised by Guinness World Records as the world's largest film city, the land of million dreams is the one and only of its kind thematic destination in India. Its comprehensive facilities have been designed and developed by international experts in the fields of technology, architecture and landscape designing.
The Film City has been a perfect backdrop for many films and it provides complete hassle-free filmmaking experience with comprehensive filmmaking infrastructure and professional services. The film city has facilities to simultaneously shoot several films on any given day.
Some of the films shot at the Ramoji Film City include – Hrithik Roshan starrer 'Krish-3', Salman Khan's 'Jai Ho', Shahrukh starrer 'Chennai Express,' and 'Robot' of Rajinikanth, Ram Gopal Varma's 'Mental', Amitabh Bachchan starrer Sarkar Raj, Ajay Devgan's Golmal and Himmatwala and Rajamouli's multi-lingual magnum opus 'Bahubali.
Some of the recent Bengali films shot there include Ravi Kinagi's 'Jamai 420' and 'Deewana,' Mahendra Soni's 'Bindass,' Rajib Kumar's 'Thakur Jamai', Pijus Saha's 'Tui Amar Rani' and Raj Chakraborty's 'Abhimaan'.
Ramoji Film city can create the glitz and glamour of the world of cinema with over hundreds of spellbinding movie sets that will traverse one to a different world.
It contains the most amazing architectural wonders, a blend of landscapes and cityscapes ranging from the pastoral to the metropolitan, wild shrubbery to beautiful manicured lawns, rivulets, singing fountains, palaces, shopping plazas, an airport terminal, railway station, police outpost, churches, mosques, temples, rural complexes, urban dwellings, gateways and much more.