'Welcome Home Sing-along'
View(s):

For the very first time, Ratnapura music lovers will be able to see the action of their own home grown singing star Annesley Malawana with his band on the 8th of January 2016 at Samudhi Hall Ratnapura starting at 7.00 pm.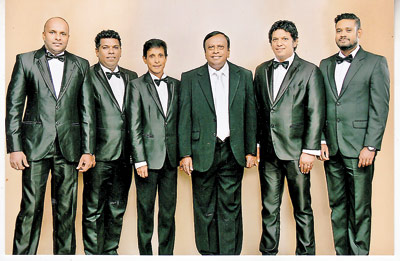 'Welcome Home Sing-along' will feature Annesley and his band Chimes from curtain raiser to curtain call to bring back the nostalgic memories of the old era of sixties and seventies.
Ratnapura will continue to be in the spotlight for the fashionable gems it has unearthed over the years and enjoying the distinction of being referred to as the City of Gems.
Ratnapura, has also unearthed musical gems in the form of Clarence Wijeyawardena, Annesley Malawana and the Moonstones reaching for excellence with their unique brand of music in the 60s and 70s era.
When Clarence was a young man wanting very much to be a radio and stage artiste and was aimlessly searching for help he met Sri Sangabo Corea, who was representing one of the leading multi-national companies.
After a few rehearsals at Mr. Corea's home, Clarence was asked to find a partner who would be his lead singer and Annesley Malawana was brought in.
With the very first audition Annesley was confirmed. When Clarence and Annesley had perfected their act they added the other members of the group which bapitised as 'Moonstones'.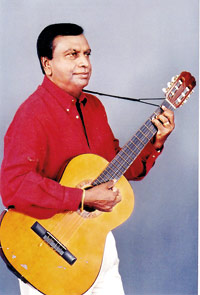 When the Moonstones were ready to go on the air Sri Sangabo Corea contacted two of his kinsmen Vernon Corea and Vijaya Corea of Radio Ceylon to feature them in a half-hour programme which gave the Moonstones the desired exposure.
Annesley, as the lead singer sang his way into the hearts of his listeners mesmerising audiences of all ages. Clarence and Annesley became household names known through the length and breadth of Sri Lanka.
With the demise of Clarence in 1996, Annesley, in his inimitable style kept the name of Clarence Wijeyawardena very much alive by singing his way into the hearts of his audiences as a dutiful friend.
Samanthi Serasinghe and Padmini Gunewardene have jointly organised this 'Welcome Home Sing-along', which Sri Sangabo Corea will grace the occasion as the Guest-of-Honour.
For tickets, contact Samanthi on 0776300798.