'Down  Memory  Lane' : A great success 
View(s):

The seventeenth  concert in the  series ,  Down  Memory  Lane (DML) sing-along  was held  recently with  the participation  of  an enthusiastic  and   animated  musical crowd .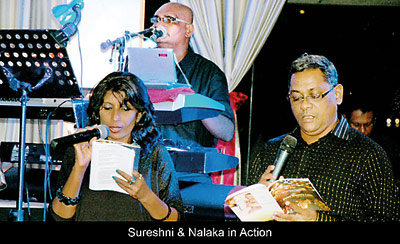 Over forty  five   songs  were  performed  by the Moratuwa  Arts  Forum  'DML   Orchestra' created and  experimented for  the  first  time,  directed  by  musicians   Pimal  Fernando  and Rolinson Ferdinando.
The  avid 'Golden Oldies ' enthusiasts who thronged from  Moratuwa and elsewhere  to Ramadia  Ranmal  Holiday  Resort ,  Moratuwa  were  seen  lustily  singing  hits such  as   'Red  River  Valley' , 'Have  I told  you  lately', 'Old folks  at  home', ' Roses  are  red ', 'Pearly  shells', 'Valderi   valdera' , 'Galway  Bay  ', ' In my  little  room',' Now  is  the  hour' plus an assortment  of  Sinhala  favourites  and   Christmas  songs for over 2-1/2  hours .
The singers  of the Forum  took turns  to come  up  on  stage urging  the responsive  audience  to singalong    to  their  hearts  content .
It warmed  the cockles  of all  present  when  the concert  curtain  came  down  to  the strains of   the famous   Scottish  melody   ' Auld  lang  syne  ' with   the participants holding   crossed  hands, swaying  from  side  to  side  and singing   this emotional    parting song with  warmth and  brotherhood.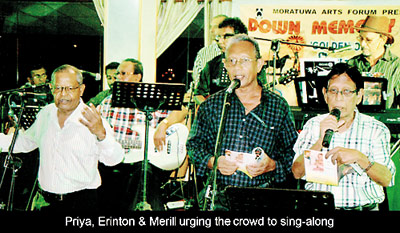 During  the  concert  the 'Down  Memory  Lane  sing-along  lyrics  DVD' comprising  twenty   'golden  oldies  '   musically  arranged   by Priya  Peiris   was launched .
This  production  was  handled  by  former  president Sarath  Goonewardene  and  the  first  copies  presented  to president  Hemaka  Fernando  and  Priya .
The joint  chairmen of this project  were DML   conceptor  Priya  Peiris  of La Bambas  and Former  drummer  of the band 'Pedlars', Laksiri  Fernando .
The  concert  was   sponsored  by  Bank  of  Ceylon .