Empowering women through fabric and colour
View(s):

Young Sri Lankan entrepreneur Azahn Munas speaks to Duvindi Illankoon about his newest venture 'Moga' – a brand that is bringing people together through its colourful shawls and headscarves

Azahn Munas, 22, just graduated from the Royal Melbourne Institute of Technology with a Distinction in Advertising. You'll find him even more enthusiastic, however, about his new venture MOGA.
The Sri Lankan born young social entrepreneur and filmmaker just launched the fashion brand as an online retailer of women's headscarves and shawls.
Azahn has been resident in Australia since he was seven. When we first met in 2013, he had just been featured on several news networks for his video 'Drive Safe: Call Me? Maybe..', highlighting the perils of being on the phone while driving.
At the time he was pursuing a passion for the film medium with determination; this hasn't changed, but Azahn has discovered a few new interests along the way.
MOGA is one such pursuit: "the inspiration behind the project came when I noticed a gap in the market for young women who wanted to wear the headscarf and experiment with fashion but did not have anything that quite fit their eccentric and daring personalities," he shared over an email interview with the Mirror Magazine.
Using Photoshop and a digital printing contact, Azahn designed these scarves himself. "Since the scarves are 100% silk they are a little more expensive but the colours have come out so well!
The fabric is also incredibly breathable and soft and very comfortable. Furthermore, we wanted to create something that was unique for our fans so we have only printed a small quantity of each design and once they run out we will not make them again.
This way our consumers own something that is special and limited edition that they know has not been mass produced."
"I also loved the fact that at the end of the day it is a rectangular piece of fabric which can be worn in so many different ways by so many different people.
The social aspect of the brand, however, was definitely inspired by my father, who sadly passed away 3 years ago but always instilled in me the mindset to give back to those who are less fortunate.
When he was alive, he was passionate about donating to women's empowerment causes here in Sri Lanka."
The project will donate 20% of its profits to help send young girls to secondary schools in countries like Pakistan and Nigeria, where equal learning opportunities are scarce (one of the ways it will do this is through the Malala Fund).
"The cause is extremely important to us," he noted. "The Malala Fund is a great campaigner for girls' education in the developing world."
"Our brand is about helping women look and feel good about themselves. With our CSR policy our customers not only feel good but also help other women who aren't as fortunate as themselves have a chance at a better life.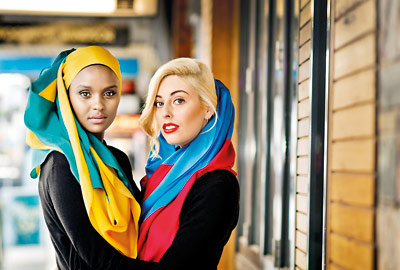 Education is key to breaking the cycle of poverty and discrimination against women. If women aren't educated, they lack the skills they need to get a job and provide for themselves or their families.
As a result, they remain in this vicious cycle and are unable to move forward. Giving girls the chance to go to school is essential so they can understand just how important and valuable they can be.
At the end of the day, it's 2016 and every child, regardless of their gender should be able to dream big and know that they are not alone." Azahn is funding the project with his own savings.
He hit a few snags along the way, such as finding a supplier to work with for initial orders and other logistical details but prevailed.
"The process has been tedious at times but they are essential to the business," he says. "Also keeping costing to a minimum whilst still maintaining a decent product that can be exported globally has been challenging but we have found a great balance."
At the moment, MOGA is based entirely online. Their debut collection SPECTRA will be released early in 2016 but can currently be pre-ordered on the website www.moga-fashion.com.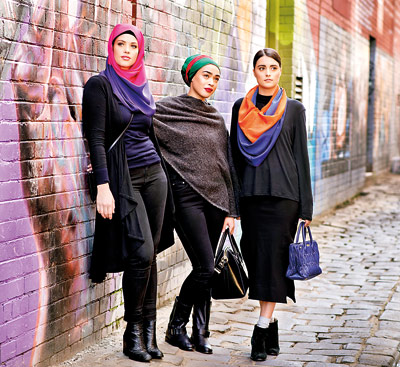 "Headscarves have definitely been a rather topical issue in the world right now," notes Azahn. "However, we want to remind people that a headscarf or a shawl is a rectangular piece of fabric and ultimately everyone has the right to wear it in whatever way they choose to, whether it be around their neck, on their head or round their waist.
Ultimately, our brand is all about how fashion can unite people through fabric and colour."
Azahn will return to Australia to partake in a work experience program for the Clemenger Advertising group in Melbourne. He added, "we would love to one day create collections for other online platforms we admire and respect such as ASOS or Zalora.
In the future we would also love to have a presence on the High Street by designing exclusive collections for brands like ZARA or H&M."