Notable viral phenomena of '2K15'
By Vinusha Paulraj
View(s):
As the year that has drawn to a close – popularly hash-tagged across social media as '2K15' has seen the average person's relationship with the internet only become stronger.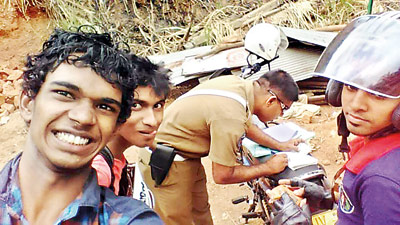 Whether its sneaking a quick scroll through a favourite home-feed before a class, or simply surfing through cat pictures at work, hours of aimless scrolling has occasionally lead to proof that the internet is a strange and wonderful place, here's our list of notable Lankan internet phenomena for the year that was.
Meme Parliament
The year kicked-off with elections and politics was the hot topic. Spoderman memes (essentially a badly illustrated, even poorly spelled version of Spiderman) inspired similar versions of Lankan politicians.
Facebook pages like https://www.facebook.com/MuhindaRajupaksa/?fref=ts and https://www.facebook.com/AnerkerlyHawt/?fref=ts still have us in stitches.
#Polfie
Around the globe people devoted much time and attention to master the deceptive art of snapping a perfect selfie. In an age when the number of filters one applies to spruce-up a self-captured portrait is directly proportional to the number of likes on the said picture, Sri Lankans went back to basics.
The Polfie was generally clicked in natural light with a policeman in the frame. All the better if you managed one while the cop wrote you a ticket. Here's where to find some http://on.fb.me/1QXHe9f
Selfie-rap
Rapping requires skill, and so does taking the perfect selfie we believe. When Lankans decided to put the two together in short self- produced video clips the internet discovered OGs (Original Gangsters) with a poetic flair from all parts of the country.
Men and women attempting to slay the RnB game has resulted in hits and misses which are an interesting if not a peculiar experience. Check-out the big names represented at https://www.facebook.com/groups/818202641590313/
News Curry
Sometimes, but very rarely the internet spews-out nuggets of gold. News Curry is one such site, brimming full of shiny internet-gold. An anonymous team rarely misses a beat in parodying daily headlines.
For those who don't keep up with the latest happenings often News Curry's spin-off is an introduction to affairs within the state. Read all about it at www.newscurry.co
Suji
In September a video of a stressed-out woman went viral. Taking comfort in the fact that she's not in Sri Lanka, her frustration is meted-out in full force via phone to a man she calls 'Suji.'
After repeated requests to hand the phone over to a child, she resorts to profanity to get her point across. We're not sure if her tone helped serve her cause but it did in fact make for an entertaining sneaky video that made its way to YouTube.
If you're brave enough to handle the wrath of this lady in pink, and do search for this video, take note of the men in the background trying their best to look uninterested.