Running for a cause
View(s):

After five years of success, 'Run for their Lives' is back this year, to raise awareness about those stricken with cancer in Sri Lanka and to encourage the public to contribute to this charitable cause in an unorthodox and enjoyable manner.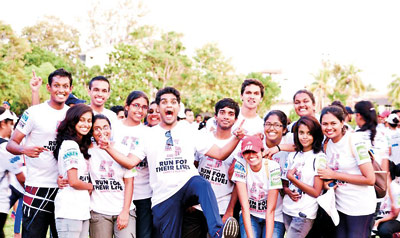 Since its inception in 2010 by the Rotaract Club of Colombo Uptown, the five kilometre charity run has grown in numbers, with the previous year enlisting nearly 3000 participants and raising over Rs. 3.6 million.
The money was donated in the form of Celsite access ports which would be used for the intra-venous administration of drugs for chemotherapy, antibiotics and anti-viral drugs, and for parenteral nutrition, blood sampling or transfusions at the National Cancer Institute of Maharagama.
This year the club hopes to take it up a notch by increasing its expected participants to 3500 and expected surplus to Rs 4 million.
The Rotaract Club of Colombo Uptown has been a leader in community service among youth organizations in Sri Lanka since 2010 and has carried out many community service projects aiding different sub sections of society for over five years.
'Run for their Lives' was started by the club as something more than just a charity run. Today, it has established its image as a social gathering coming together to the aid of those in need of dire assistance.
Last year's event took place on a five kilometre pathway which was filled with quick games and photo opportunities for the participants.
The Rotaract club hopes to exceed expectations and provide an unforgettable experience to all participants and corporate sponsors.
The event will also feature a post run environment filled with live music, food stalls, game areas and other fun activities. Apart from this, the run will consist of fun activities en route to constantly keep entertaining the runners on a more leisurely stroll.
Registrations for the run which includes a free t-shirt have now been closed, however those willing to enrol themselves for the run are welcome to come register at the event at 7.00 am on December 13.
Run for their Lives 2015 is scheduled to fire the starting gun at 8am at Race Course.
For information on the Run for their Lives 2015 run log onto www.rftl.lk or
www.facebook.com/runfortheirlives
(JS)