Artistes flocking together
Founders of the BirdGang Dance Company who were in Sri Lanka recently spoke to Smriti Daniel about their unique dance style
View(s):
We meet Sun Bird and Kro out by the pool after breakfast. Simeon Qsyea and Kendra J Horsburgh are a striking pair. The two took their birdnames when they founded the BirdGang Dance Company with Quail Bird (Ukwell Roach) and Swan (Ivan Blackstock) in 2005.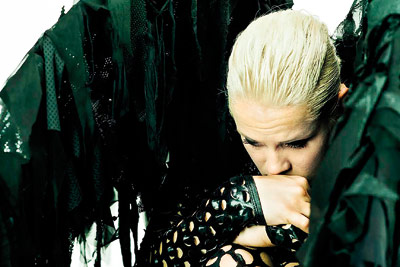 The name of the group reflected the philosophy of the founders – they would be like artistes flocking together, able to create and perform both as a unit and as individuals.
Uninterested in personal celebrity, they would sign into theatres and shows under their birdnames and wear masks on stage to preserve their anonymity.
Today, Kendra and Simeon are a long way from those years and from London, the city the company calls home. In Colombo at the invitation of the British Council, they performed and taught workshops on dance.
They call the unique style they've adopted 'Aahehop' – pronounced with a kind of exploding syllable at the beginning – and it combines influences as diverse as hip hop, jazz, contemporary, physical theatre, spoken word, illusion, and film.
One of the group's earliest performances was at the famed Sadler's Wells theatre in London, and Simeon remembers looking out over the crowd and realising with wonder that the audience simply loved the performance.
"We never expected it. The original idea was simply that we would take all these dancers from different backgrounds – ballet, hip hop, contemporary, you name it – and that we would train together, work together to create something. What we did with it wasn't important, it was the coming together."
It's an approach that has paid dividends over the years. In Colombo, Kendra performed an extended version of her solo 'Aviary'.
The performance is emotionally intense and demanding, but the response the dancer received was a validation in itself. People came up to thank her personally, one man even said he had never seen a woman dance like that before.
Kendra is used to this. Growing up in Luxemburg, she felt isolated from the dance scene unfolding in London. Even once she made the move, being a white woman with a body type that defied industry stereotypes complicated things.
"I've got the comment so many times within hip hop – 'Ah, you dance well for a white girl!' and I'm there going, 'What has that got to do with it?!' Kendra talks of auditions where she's been told she's too big for the part.
"There are so many barriers you have to push through, but it's only up to you that you take it."
She sees the choice as simple: "You could go away and think they said I am too fat, and destroy yourself with it, you've let them do that. Or you could go in and say, 'Ok, I may be too big for what you want me to do, but look what I can do.' As a result, she's often seen the tables turn.
Independently Simeon and Kendra have exciting careers. Graduating with a BA Hons. in Hip Hop from the London School of Contemporary Dance, Qysea is one of the most sought after choreographers for the UK edition of the TV series 'So You Think You Can Dance,' and has since done work in Portugal, Poland and Ukraine, and is awaiting his debut in the US show.
He speaks of producing work for TV under immense pressure. "Everyone believes you have a week to create, but it's not a week, it's more like a day and a half.
Then the film crew is in there and the dancers need to get fittings and you're like. 'Actually, we've only worked on this for a few hours.'"
Simeon has danced for stars like 50 Cent and Will.i.am and once got to share the stage with Pink by gate crashing an audition, and then capping it off by going bare-chested and really showing them he could bring it. He made the cut.
Now, Kendra and Simeon agree that their success as individuals and as a company has a lot to do with being street dancers. With funding for the arts drying up, and the industry cutting back on budgets for performances and music videos, it can be challenging to stay solvent and stay creative but the two seem quietly confident that even adversity can be turned into success.
"Coming from London, places like Shoreditch, Brixton, Hackney, Peckham all had these creative hubs, and they were all filled with people from working class backgrounds who didn't have much," says Simeon.
Though there may be tough times ahead, he thinks BirdGang will still thrive: "We're not going to panic, we're going to get more creative. We're going to get to the other side, because we have to."