Mavila Penewi Rupe; A musical tribute to Rukmani
View(s):

Musical evening in tribute of legendary singer and actress Rukmani Devi, will be held at 2 pm on December 9 at the new auditorium of the Government Information Department.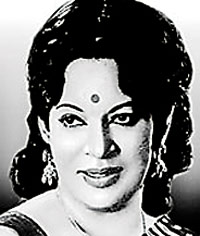 Named after her evergreen song 'Mevila Penewi Rupe', the concert is organised by Sir Lanka Eksath Kala Sandanaya and the Government Information Department.
During the concert, a number of Rukmani's popular songs are to be sung by Sriyani Dissanayake, Ronnie Leich, Errol Kelly, Manel Wanaguru, Samadara Ariyawansa and W. Premaratne.
Divya Sonali's dancing troupe is to conduct dancing performances and the aim of this concert is to strengthen the Welfare Fund of GID and to help the project in support of elderly artistes.