'Citizenfour' A journey in search of truth
View(s):

'Citizenfour', the 2015 Academy awarded documentary woven around a reporter's journey to Hong Kong for the first of many meetings with Edward Snowden will be screened at 4 pm on December 10 at the Digital Film Academy of the Sri Lanka Foundation, Colombo 7.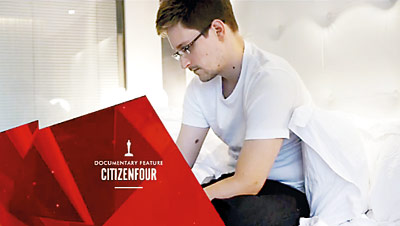 The 2014 documentary film directed by Laura Poitras, concerning Edward Snowden and the NSA spying scandal narrates the story of the whistleblower who risked his life and future for the truth and freedom of expression.
The film will be preceded by an introductory talk delivered by Chandana Sirimalwatte on the topic of 'unmasking the big other' and is moderated by filmmaker Sudath Mahadivulwewa.
In January 2013, Laura Poitras started receiving anonymous encrypted e-mails from "CITIZENFOUR," who claimed to have evidence of illegal covert surveillance programmes run by the NSA in collaboration with other intelligence agencies worldwide.
Five months later, she and reporters Glenn Greenwald and Ewen MacAskill flew to Hong Kong for the first of many meetings with the man who turned out to be Edward Snowden. She brought her camera with her. The resulting film is history unfolding before our eyes.
Starring Edward Snowden, Glenn Greenwald, William Binney, Jacob Appelbaum and Ewen MacAskill, the film had its U.S. premiere on October 10, 2014 at the New York Film Festival and UK premiere on October 17, 2014 at the BFI London Film Festival.