Anilana Nilaveli: Ultimate beach experience
By Sanath Weerasuriya
View(s):
Whether you want to Scuba dive in exotic ocean waters or sun-bathe on palm fringed beaches, Nilaveli is the place to be. It is a land of miles of sun kissed lonely beaches where guests can watch the sun rise over beautiful bays, go for long walks or build castles on sandy beaches.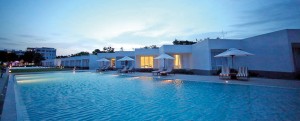 Paradise is a place of complete bliss, delight and peace. This is precisely what 'Anilana Nilaveli' lives up to. Anilana Nilaveli is a contemporary beach resort which fronts the shimmering seas of Nilaveli.
Nestled within the leafy green jungle in Irakkakandi on the quietest part of Nilaveli Beach, one of the best beaches in the world, Anilana is stylishly designed resort.
It is an intimate and luxurious escape for travellers to the East to relax and enjoy some luxury, good food and the natural beauty of the surrounding environment.
Set on a coconut grove, this stylish beach resort offers a range of luxurious bedrooms to choose from, several restaurants serving local and international cuisine, watersports activities and a personalised service.
The 54 ensuite bedrooms are divided into several categories – Anilana Deluxe Rooms, Pool Chalets, Studios and Anilana Lux rooms.
Room interiors are well designed and equipped with luxurious facilities including king-size beds, a/c, LED TV with satellite channels, Wi-Fi, tea/coffee, a mini-bar and a safe. Ensuite bathrooms have h/w showers. 

'All of our rooms and suites are comfortably furnished and have breathtaking views of the Indian Ocean, Swimming pools and or hotel gardens' said Sidney Wickeremathileke, the Manager Front Office.
Twenty seven Anilana Deluxe are compact and furnished with twin or king-size beds. Six luxury Studios rooms are more spacious and contemporary in style.
Anilana Lux rooms are three spacious suites that interconnect with an optional Deluxe room. Each suite has a private terrace providing excellent ocean and pool views.
Pool Chalets are set of rooms close to the beach on either side of the two swimming pools. Each of the 18 chalets has a rooftop terrace.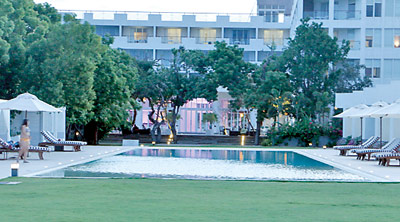 'Dining at Anilana is an experience. We offer fresh from the sea to the table. Our speciality is sea food, but all international culinary delicacies are available.
We are capable in catering to any request' said Nuwan Fernando, the Assistant Manager Sales and Marketing.
For the best in Asian and Sri Lankan buffets, the 'Dining Rooms' is open for breakfast, lunch and dinner. Apart from that, Rooftop restaurant, Beach restaurant, Grill Room and Spa Dining are some of the attractions of the Hotel.
'Romantic Beach dining or mid pool dining for honeymooners are our speciality. We have a special service for our honeymoon guests' Sidney added.
At Anilana Nilaveli, adventure activities including whale and dolphin watching in deep blue seas, diving, angling, yachting and snorkelling under the shaded shores of Pigeon Island in search of rich marine offerings or dance with the sharks in shallow waters.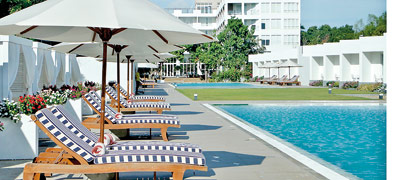 'The biggest attraction would be 'whale and dolphin watching'. The resort has positioned under this, a unique selling proposition' said Nuwan Fernando.
He said sighting of Blue and rare Killer Whales have now moved to Eastern coast from the West, ear marking Trincomalee as one of the top whale watching destinations in Asia.
'Though it is seasonal, dolphins are a very common sight around the year. Sea sports and boat trips to Pigeon Island is a popular attraction among visitors to the hotel' he added.
Trincomalee in particular is becoming increasingly accessible to local and foreign holiday-makers with the development of the road network, allowing them to enjoy the beautiful beaches of Uppuveli and Nilaveli, some of the best diving and snorkelling spots in the country and a host of other activities including yachting, angling and whale watching, short visits to Swami Rock, Fort Fredericka, and hot water wells.
Anilana Nilaveli is the sister property of Anilana Pasikudah and Anilana Craig Bank Nuwara Eliya in the Hill Country.
'Anilana Group marketing strategies target a cross-section of high-end tourists both foreign and local, including high spending tourists from Europe and newly emerging markets such as China, Russia and India' said Manager Fernando.
The room rate for 'Anilana Nilaveli' ranges from Rs. 23,500/- (FBD-deluxe) to Rs. 27,200/- (FBD-Pool Chalets). Suites are available at Rs 46,800/- (FBD).
Card promotion is now on till the season ends.
For more details contact 0652030900, 0112030900 or log onto
www.anilana.com
Pix by Priyanka Samaraweera