Comedy Sundays
View(s):

Could you have imagined that there could have been a better combination than Sunday, coffee and a good story book? Guess what, there is a better combination and it is Sunday, coffee and comedy.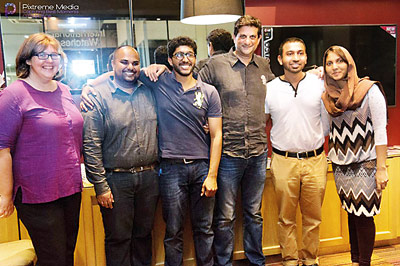 Tranquil Events with its partners Coffee Bean and PR Wire brings the Comedy Sundays at The Coffee Bean and Tea Leaf Liberty Plaza Colombo.
Tranquil events being the pioneers in Sri Lanka in not only hosting comedy events but also managing creative talents have once more come up with an amazing concept called the Comedy Sundays.
It has been happening from October and the second show just finished on the 1st of November 2015. Tranquil Events along with its partners believe that Sri Lanka needs an alternative form of entertainment.
The Founder of Tranquil Events Fahmy Rahman believes that this is in fact a good cause.
He further noted, "I truly believe that Sri Lankan people need to be happy, we Sri Lankans have suffered enough with the past.
My drive for this concept is to give the community of Sri Lanka a new form of entertainment, we are in fact progressing and I don't think having casinos is the only form of entertainment, we should do more than that."
Comedy Sundays is happening every first Sunday of the month at The Coffee Bean and Tea Leaf Liberty Plaza Colombo from 5 -7 pm.
Tickets are priced at 750 LKR and with it you will get a free beverage and a further 25% discount on your total bill.
Make sure you book your tickets early because there is only very limited seats and it sells out fast so to avoid disappointments please call Mariam on 0771 299 002 to reserve your tickets for the next show on the 6th of December 2015.