Mounting cases set off rat fever alarm in Sri Lanka
By Kasun Warakapitiya
View(s):
With 614 cases of rat fever reported, health officials are warning of a surge in Anuradhapura, Kalutara, Galle, Kurunegala and Moneragala, where paddy farmers are at risk of contracting the bacterial disease.
Cases are also being reported from the Ratnapura gem mines.
The highest outbreak, 71 cases, is in Anuradhapura, Health Ministry Consultant Epidemiologist Dr. Jagath Amarasekara said. There were 24 cases there last year.
Rat fever, or leptospirosis, can be fatal and is often found in water sources contaminated by rodent urine. In the countryside, more than 70 per cent of cases are reported from areas of paddy cultivation.
Cases have increased following intermittent rains that have created a damp environment.
Dr. Amarasekara said rat fever is also spreading in urban areas where the rodent population is high. The symptoms of rat fever vary, and include fever with muscle pain, headache and in some instances with red or yellow patches forming in eyes, and dark-coloured urine and bloody stools.
If not treated, the disease could be deadly, with the failure of internal organs and the nervous system.The bacteria spreads easily in tropical climates.
Rat fever can be spread by other rodents such as porcupines as well as household pets such as dogs, and cattle and other animals such as deer.
"Farmers, cultivators and others walking in paddy fields or similar areas should ensure that open wounds are not exposed to possibly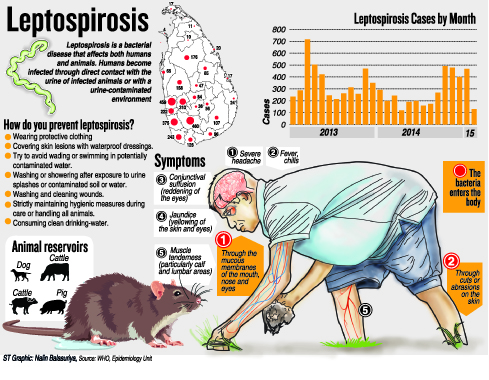 contaminated water.
"They should avoid drinking or washing with contaminated water as the infection could spread through eyes, mouth and even nostrils," Dr. Amarasekara said.
The Health Ministry is formulating preventive measures as well as awareness programmes to be conducted in high-risk areas.
The Health Ministry's Provincial Director in Sabaragamuwa, Dr. Kapila Kannangara, said the gem mines of Ratanapura area were also becoming contaminated with leptospirosis bacteria. Ratnapura recorded 45 cases of rat fever.
He advised farmers to wear gloves and boots and said miners should use protective gear. Victims should complete the course of drug treatment prescribed by their physicians, he said.
The Galle Epidemiology Unit said it had received reports of 43 patients in January and February, mainly from Baddegama, Elpitiya, Hikkaduwa and Karapitiya.
In the Kalutara district there was one death. The Kalutara Regional Epidemiology Department said 40 patients were reported in the past two months.
Farmers should use traditional methods of control
Farmers should employ traditional methods of rat disease control such as letting rat snakes, monitor lizards and owls hunt in paddy fields and the surrounding areas, the Assistant Director of the Agriculture Research Station at Labuduwa, J. Ponnamperuma Arachchi, said.
Perches for owls could be erected to help owls look out for rat prey.
Irrigation ditches should be constructed to help water flow freely through paddy fields.
Ms. Ponnamperuma Arachchi said farmers could erect three-foot polythene barriers to stop rats from entering the fields, and place rat traps around the field and unripe papaw near rat dens. Unripe papaw is believed to hinder breeding in rats.
She said farmers could use covered bait stations such as poison stored in bamboo in areas where rats roam.