There is not much left for Kumar Sangakkara to prove – Or so, you'd think
View(s):

Recently won the World T20. Better Test batting average than Kallis, Tendulkar and Sobers. Only Bradman has more double hundreds. After 122 Tests and 362 one-dayers, there is not much left for Kumar Sangakkara to prove. Or so, you'd think.

Why then, has the 36-year-old Sri Lankan, one of the modern greats, turned down the chance of another lucrative stint in the Indian Premier League, albeit a shortened one, to play for Durham, before Sri Lanka's early-summer tour of England?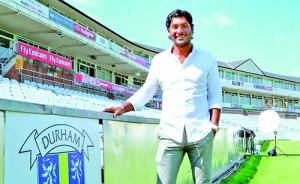 Simple. Sangakkara has never won a Test series in England with Sri Lanka. In nine Tests, spread over three tours, the classy left-hander averages only 30, and has scored just one century – albeit in his last Test innings on these shores. England won four of those games, two by an innings, one by 10 wickets. "Even the very best players don't always score runs all over the world," Sangakkara says. "Jacques Kallis never scored a hundred in Sri Lanka and Ricky Ponting struggled in India."
Sangakkara admits that he has not always batted well in England, but gives himself some slack because going in at No 3 and keeping wickets, as he did in 2002 and 2006, is a challenge. Particularly on seamer-friendly English wickets that are very different from the slow, flat, dusty Sri Lankan turners on which he has scored more than 6,000 runs at an average of 63, with 21 hundreds and a top score of 287 against South Africa.
He does not want to make excuses, though. "You know what you're up against," he says. "Wickets are at their freshest in England this time of year. That's the whole point of the challenge. I could get a couple of good scores, or I could get a good ball early on. You have to go in with an open mind."
In 2011, Sangakkara missed Sri Lanka's opening tour game against Middlesex, deciding to stay on with his IPL franchise Deccan Chargers. He arrived in England just in time for the second warm-up game, against England Lions and did not get many. Others scored heavily, though, and Sri Lanka won. Four days later, the first Test in Cardiff started. Again Sangakkara did not get many. This time, nor did the other batsmen. Sri Lanka lost. By an innings.
Sangakkara admits that one game is not enough to acclimatise for a series in England, but adds that apart from two hours of madness at the Swalec Stadium, where Chris Tremlett and Graeme Swann bowled them out for 82, Sri Lanka performed very well in 2011. Well enough to draw the other two Tests, but not to force a win.
You do not need a law degree, even a half-finished one like Sangakkara, to work out that T20 slogfests on slow, flat IPL featherbeds are not the best preparation for a Test series in England. "Ideally you'd have a few warm-up games," he says. "This time, with the one-dayers preceding the Tests, we'll have more time to get used to conditions."When Sangakkara steps out at Lord's for the first Test on 12 June, assuming the weather is kind, he will have played five one-day internationals against England, a four-day warm up against Northampton and two County Championship games for Durham, although the first did not go swimmingly. Sangakkara was out for a two-ball duck in the first innings and for 14 in the second during the draw with Yorkshire at Durham last week. Everything clicked during the current Championship game at Hove though, Sangakkara smashing 159. These experiences are exactly why he is foregoing the IPL. "Durham wickets are more challenging than a lot of wickets in England," he says. "It is a good rehearsal."
Sri Lanka might be secretly relishing the thought of facing an England team, without Kevin Pietersen, Jonathan Trott and Graeme Swann, and with no Andy Flower at the helm, but Sangakkara is too canny an operator to give Peter Moores and Alastair Cook any quotes to put up on the dressing-room wall. "England had a bad Ashes series, but they have a lot of quality and always play well at home," he says.
He does admit, though, that Pietersen's absence from the England side will be a huge bonus for his team. "Pietersen has the ability to singlehandedly take a game away from you," he says. "Then there's his presence at the crease."
Sangakkara believes that Sri Lanka have the players to do well in England this time around. He thinks that seamers, Shaminda Eranga and Suranga Lakmal, who bowled well in the recent drawn series against Pakistan in the UAE, will like English conditions. Also that Kaushal Silva, Dinesh Chandimal and Lahiru Thirimanne are improving batsmen, and Angelo Mathews has matured into "a fine Test match all-rounder".
He adds that it is probably, but not definitely, his last chance to put the record straight in England. He will be nearly 39 by the time Sri Lanka tour England again, in 2016, has just retired from international T20s and says the World Cup in Australia, next year will be his last. But there's no talk of retiring from Tests just yet. "Two years is a long time in cricket," he says. "Let's just see what those two years bring. My aim now, is to share in as many victories as possible for Sri Lanka, particularly away from home."
After their most recent overseas triumph, last month, people lined the streets of Colombo to welcome home the World T20 champions. "Every Sri Lankan was there, all races," he says, "sharing something that everyone believed in, loved, an example of one country together."
This is not always the case in a country still divided, after a long and bloody civil war. Last year, UK-based Tamils, protested during Sri Lanka's Champions Trophy games at Cardiff and The Oval. "As a sportsman from Sri Lanka, you have to understand that politics plays a large part in a lot of things," Sangakkara says. "On a tour, sometimes you can't escape from that. Nothing was aimed directly at the players. No individual player were targeted."
Over the last few years, Sangakkara has been working with the Foundation for Goodness Charity, helping disadvantaged people in north and east of Sri Lanka, where the civil war hit hardest. "So many people went through years of hell, but with all that going on around them, they still carried on with their way of life," he says. "If they can manage that, why would you stop living just because you haven't scored enough runs or because you lose some matches."
Scoring runs against James Anderson and Stuart Broad on a green top and beating England in England, is important. But not all-important to this proud and thrilling batsman.
Courtesy — The Independant
Friday May 16