Humble beginning of Zahira College football!
By Subhani Hassimdeen – former national football captain and national coach
Zahira College Team that toured South India in 1963
View(s):
It was during those halcyon days when the game of football was at the zenith of popularity during the period mid 1950s and 1960s the boys of Zahira College Maradana shone like a beacon.
Hard training with application and determination, these soccerites spent the whole evenings on the sprawling school ground and by dint of sheer perseverance later turned out to be some of the country's renowned players in the calibre of Bagoos Sourjah, M.A. Ameer, Subhani Hassimdeen, Judy Preena, T.F. Buhar, T.S. Samath, Naina Mohamad, Amanullah, Imbran Mohamad and Fazul Rahuman.
Some went on to captain the National team and hold various top positions in the Controlling Body. M.A. Ameer captained the Ceylon team in 1966 at the Agha Khan Gold Cup tournament held in Dacca then East Pakistan, S.M.M.M. Namiz was appointed as National
Coach, Mushin Ariff went to the extent of becoming a Referee Instructor in the Asian Controlling Body, Amanullah captained and coached the National team, Imbran Mohamad led the Under 23 Olympic Squad, Judy Preena and Hanifa captained the National Youth team. I had the privilege of captaining the National team, coaching the National team and served as Director – Youth Football Development of the FFSL.
During the period 1950s – 1960s , the pioneers who played a major role in achieving excellence in Zahira College football were: the School Principal – A Civil Servant and Senator Mr. A.M.A. Aziz , Mr. Sanoon, Mr. Gafoor, Mr. Farook and to name a few. Some of the renowned soccerites who donned the green, Maroon and Silver Jersey of Zahira College were: Meerasha, Farook Preena, Kumarasamy, Daniel, Thair, Amith Nazeeb, Mirzadeen, J. Upali, T.D. Saban, M.N. Seedin, T.E. Buhary, A.R.A. Basheer, Saleem (Nigerian), Tom Falildeen, T.H. Falool, T.A. Yahiya,M. Osman to name a few who brought glory to their Alma Mater.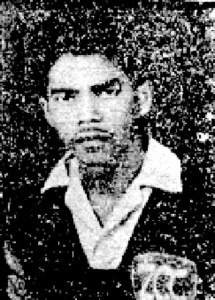 It was in the year 1955, with a view to encouraging football in schools, an Inter-School Competition was inaugurated for a trophy awarded by Sir John Tarbat which was conducted by the Ceylon Football Association. The first winners of this Trophy were Zahira College Maradana who beat St. John's College Panadura 6-1 in the final. Zahira was led by Meersha beside prominent players like Bagoos Sourjah and Farook Preena. Zahira won the prestigious Trophy thrice.
Due to some reasons the competition was not conducted, between 1958 to 1963. However during this period, the two leading schools in Colombo namely St. Benedict's and Zahira decided to play annual 'Big Match' between them in place of Inter-School Cup final.
Ever since the Big Match between St. Benedict's and Zahira was held during the period late 1950s and early 1960s, the game of football has been the most loved sport, attracted the largest audience and cheering crowds. Players of the winning team were showered with treats and gifts and were almost given hero's welcome at the Assembly Hall in their respective schools.
While the match at Kotahena drew more than 10,000 fans, the field at Maradana were equally filled with large crowds. Standard wise both teams never played second fiddle to each other. Such was the standards and quality of school football then.
Out of four Big Matches played annually both schools won two encounters each.
Prior to the Big Match Zahira used to play practice matches with leading clubs and establishments such as Saunders, Sunrise, Colpetty United, Eleven Youngsters, Police , Colombo Municipal , Brown & Co, to name a few. Friendly school matches too were played before the annual Big Match with leading schools like: Dharmaraja and Kingswood in Kandy, St. Patrick's, Skandavarodaya and Central College Jaffna. Gampola Zahira, Galu Maha Vidyalaya, Ananda, Nalanda, St. Mathews, Carey, Dharmapala, St. Joseph's, to name a few from Colombo. From the practice matches and School fixtures played one could just Imagine the standard of football played and maintained by Zahira College during that golden era.
I had the privilege of representing Zahira against St. Benedict's on two occasions, in 1961 and 1962. The match played in 1961 at Zahira College ground St. Benedict's was led by Edward Jayawardena with players in the calibre of Rozen Rodrigo, Dabrera, Denzil Wallus and Errol Anthony.
Zahira captained by S.M.M.M. Namis besides, Thahir, M.A. Ameer, Hussain, T.E. Buhary, Zackereya, T.D. Saban, Seedin, Saleem (Nigerian). This encounter was won by St. Benedict's 3-1.
The usual fight and scuffles between rival supporters erupted in these crucial encounters in Maradana as well as in Kotahena, but the players by and large maintained a high standard of discipline maintained and implemented by the Principal and the Rectors of both institutes.
To avoid violence among the supporters the last Big Match was played at the Police Park Bambalapitiya in 1962 with police protection. Zahira beat St. Benedict's in a nail-biting encounter 2-0. Zahira was led by T.D. Saban, T.A. Yahiya, T.E. Buhary, Cassier, Zakeriya, Hussain, S.M.M.M Namiz, T. Osman, A.R.A. Basheer, M.N. Seedin, Ahamad Mohideen and me.
In the year 1962 under the captainship T.D. Saban Zahira emerged as the only unbeaten football team among the schools.
Record of matches: beat Dharmapala 7-0, match against Nalanda abandoned, beat Ananda 14-0, beat St. Benedict's 2-0, Dharmaraja 3-0, drew with St. Joseph's 1-1, beat Carey 7-1, beat Galu MV 5-3.
Matches played with clubs prior to Inter-School fixtures: Beat XI Youngsters 3-1, Young Comets 5-3, drew with Police 2-2, Colpetty United 2-2, beat Brown & Co 7-0, drew with Old Xavier's, N'Eliya 1-1, beat Old Zahirians Bandarawela 3-2, beat Colombo Municipal Council 8-1.
No doubt both these schools entertained the crowd with a football fiesta of rich quality which gave a true indication of their technical advancement, taught and trained by those two famous National Coaches Albert Fernando of St. Benedict's and V. Nadarajah of Zahira.
For performing brilliantly in the inter-collegiate soccer season in 1962, Zahira College team was rewarded the chance by their college authority to tour South India for a period of two weeks. Fifteen players under the leadership of T.D. Saban who went on the tour were: S.M.M.M. Namiz, T.E. Buhary, Zackeriya, A.R.A. Basheer, Subhani Hassimdeen, Judy Preena, T.A. Yahiya, M.F. Cassiere, Seedin, Govindarajah, S.M.B.A. Latiff, T.H. Falool, T. Osman and Ahamed Mohideen.
When the prestigious Sir. John Tarbat Shield Football competition re-commenced in 1964, Zahira once again became champions beating Maradana MMV 8-0 in an encounter played at the Sugathadasa Stadium. Sir John Tarbat was the chief guest and lady Tarbat distributed the trophies. Zahira team: A.R.A. Basheer (Capt) Subhani Hassimdeen (V. Capt) T. Putra , S.M.B.A. Latiff, S.A. Raufdeen, T. Osman, Judy Preena, Tom Falildeen, T.F. Buhar, T.H. Falool and A.H.M. Jubree.
In conclusion, it must be recorded with utmost gratitude, the selfless service now being rendered by some of the football legislators in the calibre of Fouzul Hameed, M.S. Mazeer, Tony Amit, P.S.A. Rafeek, M.Z. Farook, T.S. Samath and Mushin Ariff who collectively have carried this modest football playing school in the country to the heights it now adorn.