Asian5Nations loss – did it matter for the Lankans
View(s):

The Asian5Nations is almost over and the top three performers Japan, Korea and Hong Kong justified their banding as the High Performance Group of Asia. They were a challenge to themselves and will compete together in 2015 limited to three teams.

The banding by the world governing body for equal competition it seems is more than justified. Philippines and Sri Lanka are equals among themselves and in 2015 will be banded together with probably teams drawn from Malaysia, Thailand, Chinese Taipei,

Kazakhstan, Singapore and China. The local administrators and fans may be disappointed that we will not be among the top teams for 2105. The reality is that we now have a chance for a better competition that will help us in our development plans. The numbers that support Sri Lanka when Internationals are played will have something to cheer as in 2015 the chances of a victory will be better. In the meantime it will be Sevens which we should be looking for from now on and a place in the Olympics from Asia. This will require a solid performance in the Asian Sevens Series.

The schools rugby takes another break after the fifth round of matches and the second round will be a tight fight. Limited to the first four of each group there will be four matches for each team with the schools that they have not played in the first round. Wesley and DSS, St. Anthony's and Dharmaraja have been eliminated from the second stage of the Division I A league and will have to play for the Plate and to remain in the top group for next year.

Dharmaraja and Wesley who were league champions and runners-up last year were a disappointment. Wesley came back with a glimpse of their previous performance late in the first round but could not make enough noise to remain in the first four. Dharmaraja however will have to face other consequences following their refusal to play against Science as the schools section overruled their claim to play some players who have not been registered.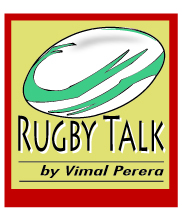 Isipathana, Trinity, Kingswood and St. Peter's are the teams that have the best chance of being league champions. With wins in all five matches Pathana stands ahead of St. Peter's and Kingswood who too are unbeaten but have a draw against each other. The other teams that make the eight include Royal with three wins, St. Joseph's, Science and S. Thomas'. It is quite an uphill task for any of these teams to make a challenge to be in the first four. The third and fourth week of school rugby will see some high pressure games with Trinity and Isipathana having to play St. Peter's and Kingswood.
Kingswood one of the front runners to win the league will want a huge morale boosting victory when they meet St. Joseph's in the first week. Kings, a fit mobile nippy side will probably run wide of the bigger balanced Joes who have not performed to the talent they possess. Joes have many generals but the soldiers have not performed at battlefront but are capable of an upset. They have a talented side that is capable of challenging the Kings but have not fired in all cylinders so far this year. My mind goes back to rewriting some of the things I wrote some time back on what we could learn today from Shakespeare's Julius Caesar. What the Roman legions knew is that flailing wildly with long, heavy weapons forces you to commit too much to each attack. Sometimes, the difference between effectiveness and failure lies in how expertly a tool is used. Bigger and better doesn't guarantee success. Fluency and expertise in the use of very specific tools, however, can turn an apparent disadvantage into a win.
Royal play St. Peter's while Trinity will play Science in the first week and Isipathana take on S. Thomas' who started with promise but have sagged to a low performance and not much can be expected of giving a fight to Pathana.
The week saw Trinity getting the better of the Bradby first leg. This was a match that never produced the rugby that could have been expected with so much of ball being in play. There were no phases of play to kindle the light of moves that would have kept you talking for weeks. Instead it was tries that were scored against the run and a result of sporadic attacks. With around 75 stops the ball in play would have been over 50 minutes. With advantage played for 14 times the game should have had more enjoyable rugby? Yet it never reached moments of ecstasy other than the episode of a referee who had a cramp with four minutes of play left.
What is seen is with most school rugby is a control from the lines where you expect to practice what you learnt but there is little done to create the move and the play that can make a difference.
Vimal Perera is a former Rugby Referee, coach and Accredited Referees Evaluator IRB