Storm over 16th player
View(s):

Storm over 16th player

The normal squad to make a tour is 15 but in this case 16 were picked. It is now revealed that even the Sports Boss did not know about the 16th player. Sports circles were buzzing with the news that the 16th player was included on the insistence of a powerful sports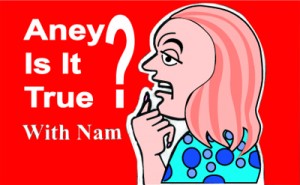 personality, who does not take NO for an answer. It is said that this personality is now very powerful that he has his own way in all matters connected with this sport.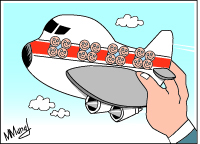 Three factions at work
Still on the subject of this particular sport, at one time there were two factions now a third faction is in function and it looks as if this third faction is more powerful than the earlier two. Also there are murmurings that due to the shortage of funds 130 contractors are about to lose their jobs due to this set back.
Rain a saver?
About a week ago a big sports complex was due to be opened in Anuradhapura but due to the heavy rain the opening of the complex was postponed. Further investigations have revealed that the complex was not all that it boasted. The roof is very high and is subject to the strong winds, rain and the blazing sun. The Big Man in the country was supposed to have declared open the complex but luckily the rain that prevailed on that day turned out to be a face saver to those who built the complex or else the Big Man may have found several faults with it.
No to Fiji players
The rugby defeats at the hands of Korea and Japan was so great that officials at one time wanted to include some Fijian players, now playing rugby in the country, in the national team in order to cushion the defeats when they had to face Hong Kong in the Asian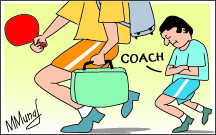 Tournament. However it is said that the world governing body had opposed the move and Sri Lanka crashed to defeat against Hong Kong as well.
Ping pong diplomacy
A ping pong team took wing to the Land of the Rising Sun recently but the side had no coach accompanying them. A player was assigned with the task of coaching them. Strangely this player had been defeated by several of the touring players and sports circles were wondering whether it was a wise move to make such a player as the coach, especially when the player concerned had suffered heavy defeats at the hands of some of the players on tour.