A cry from the athletic wilderness
By M. Shamil Amit
School principal cum coach doing wonders with a bunch of less fortunate kids
View(s):
St. Rita's College Thaldeka, bordering the Wennappuwa town, is a mixed school by the sea side which comprises of 344 students in the lower grade class (1-5) and 307 in the upper grade (6-11) amounting to just 651 students.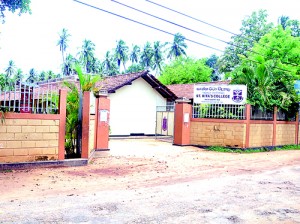 But they could proudly boast of producing a record-breaking athlete. This they have achieved sans the facilities that other schools possess in whatever way.
At the recently concluded Junior National Athletics Championship held at the Sugathadasa Stadium, the record breaking performance of one of their athletes, Malinda Madusanka in the Under-18 shot putt event of 16.38m proved worth to go deep into the background.
Making inquiries after Malinda's performance it turned out to be some kind of a fascinating story, where he has been moulded into a champion by none other than his principal. The school's head has been Malinda's coach since he took to the sport seriously.
The school came into the limelight in the sport of athletics just four years ago (2010), after the present principal I.A. Denver Fernando took over duties.
The principal, a sport fanatic speaking to the Sunday Times said "Malinda was nowhere when he took over the sport even without a place at the school sports meet; he was persuaded to keep his interest on that event as I knew he could be turned into a champion. On one side he was a bit boisterous and 'don't care' type but today I am happy that I have been able to achieve my target to some extent. Of course Malinda as time went by changed and attended practices with dedication and his effort inspired others to join. Within one year the boys and girls did wonders for a small school like ours and we can proudly say that we ended up as the fourth best school in athletics in the Wayamba district or North Central Province."
The beaming principal added further "One year later (2012) we ended as the third best school and have been able to maintain the position up to now. We have achieved all this without a proper ground or facilities."
Malinda has been the inspiration and in fact his record-breaking performance recently was not his first. His first record-breaking performance was in 2010 at the Junior John Tarbet Meet in the Under-14 discuss throw event.
From there on he has almost won gold medals in all the meets that he has participated. Added to that his elder sister, Thilini Maleesha Lakshani too won a gold medal in 2011 at the same meet. There is another in the family coming up in Manesh Malintha, who too has the potential of becoming a champion discuss thrower. But the saddest part of all is that the three siblings are without their parents and are being looked after by their grandmother and relatives.
Malinda in addition have two best athlete awards which he won at the 2011 Junior Tarbet Meet and in the Junior National Athletics Championship in 2012 and both were in the Under-16 age group.
Principal Fernando then got into the inside story "Apart from that Malinda has gone with the Sri Lanka junior athletes on two tours — one to Australia for the Victoria Invitation Athletic Meet and to Malaysia for the 1st Asian School Track and Field Meet which is a great achievement for our school. But all this achievement has not been a bed of roses as they don't come from well-to-do families with most of them being children of fathers who go to the sea to earn their living. The mothers support them with whatever nutritious meals that
they need and we are thankful to some employees of MAS Holdings Intimates who collected funds for Malinda for his two tours abroad. Even the spikes are borrowed from others and that too are being shared by the athletes for the various events that they have to participate in. They practice for track events (long distance by running around the school as the length and breadth of the ground is insufficient. Even the hurdlers practice with equipment which I got made by a carpenter.
"Discuss throwing is practiced with discarded and damaged stuff used by others being brought and repaired and we have made a small gym separating a section of a class room.
"We are cash strapped as we need more than Rs. 300,000/- for each year which is difficult for us to find. Most of the time I pocket it out and for the recent Junior National Athletic Championship my wife who has been my great supporter borrowed Rs. 5,000/- to bring the athletes to Sugathadasa Stadium. We are grateful
to the parents and well wishers who collected funds and built bathroom facilities for the young athletes to enjoy a wash after their practice session and also to Maxis who provide us with transport for venues close to the school".
Apart from their achievement in sports the school has won numerous awards in drama contests and also fared well in academics. As much as 57 percent of their
students have qualified to the advance level this year.
In conclusion the principal cum coach said what they want is someone to come forward and help them in whatever way possible. "Yes it's a worthy cause as they have the talent and are dedicated and determined to go forward."
The school has around 30 to 40 attending practices for district meets and over 70 for major athletic meets which shows the interest that the boys and girls take.
So the need of the hour for these aspiring and dedicated young athletes is the basic facilities which is lacking for them to move forward to showcase their hidden talent.