Nishikori's Perfect Tennis
Madrid-Open 2014
View(s):
Dedicated artists can enhance and exhibit Tennis as an exciting and captivating spectacle. Kei Nishikori of Japan did just that in the two matches he played against the clay court experts David Ferrer in the semi-final and Rafael Nadal in the final of Madrid-Open 2014.
To my memory I have not seen Tennis being played like this; especially Nishikori's first set against Nadal in the final. Wimbledon champions and some astute observers described Kei Nishikori's Tennis as 'most refined seen and had a class of its own'.
Nishikori won the Barcelona-Open two weeks ago. In these run-up events on clay to the second Grand-Slam of the year 'French-Open', he dethroned Spanish Lions, in their own den. He is now in the top-ten of the world ranking, as the first Japanese ever.
Nishikori has been around for a while in the men's circuit as a lonely Asian. In 2012 he consolidated himself into the top 20. He beat Federer in US this year and gave a walk-over in the next round, due to injury. It happened again last Sunday. Nishikori was leading 6-2, 3-1, at that point anybody would have placed their last dollar on him. Suddenly his venom began to fade and that allowed Nadal to extend rallies into the seventh shot and more many times. Nishikori called in the tournament physiotherapist at the changeover, this confirmed his injury. He tried to sustain the game but lost the second set. Unable to play, he retired in the third set. Winning the Barcelona title and reaching the finals in Madrid has made him No.9 in the world rankings.
Men's Tennis 2014
In the beginning of 2013, I saw much potential in three players. They are Al Magro and Vadesco of Spain; and Wawrinka of Switzerland. All three are still there with Wawrinka riding the crest as the number 3 of the world. The 10th to the 25th men's ranking is packed with talent and potential. It acts as a tightly woven 'filter' permitting only the best to come through. One has to be really good to survive that test. Nishikori has done this and possess the best game to be in the top five at the end of 2014.
He is 24 years old. Change of guards in the world rankings is happening but not as a 'Blitz-Krieg'. Nadal, Federer and Djokovic are still big Tennis news. To sustain oneself in the ever-challenging Men's Tennis arena is very tough on the body. Although still at the top of rankings at the moment, Djokovic is nursing his arm, Federer is playing prudently taking long breaks between tournaments and Nadal is walking between the Tennis courts and medical attention. This is the tail end scenario of champions but they are still very successful, attractive to watch and to learn from.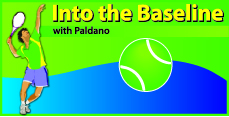 Nishikori's game
Nishikori started Tennis at the age of five in Japan. His early success got him selected to be trained in Florida, USA at the IMG-Bolliteri academy on a 'Sony Japan' sponsorship program with some others. His strength is in the game making ability, an aspect that is 'caught than taught'.
At times Nadal and Ferrer looked like struggling school boys against Nishikori's game. He positions himself 'right on the base line' and plays over 60% of the shots from inside the court, frequently follows his shots to the net to volley effectively. It gives him rich dividend. His service aces has pin point accuracy and power. His second serve was rarely seen and when it was, the opponents had to be well behind the baseline to return it. It had movement in the air, bounced high and came very fast. It was difficult to serve at him.
His ground strokes delivered relentless winners. Nishikori often wins opponent's second serve rally. Most of the damage to his opponents came from his ability to 'see the ball very early' and playing it from well inside the court. This systematically eliminates nearly ten meters of ball movement between shots. It also permits him to catch the opponents on the wrong foot easily. Nishikori 'senses' court well and knows the 'game of Tennis' very well. Proof of this comes from his ability to position tactically and to cover court comfortably. He is very much like Roger Federer an instinctive player.
Issue of physical break down
At 5'10" in height and 150 pounds in weight, Nishikori is not tall and powerful, when compared to other players. This seems to be the down-side in him. It has already shown its effects. He had to concede two matches in the last two months due to injuries; one semi-finals in US and another in the Madrid final. In all probabilities, he will be made to phase out his participation like what Federer is doing now. That is not easy either as the second 'Grand-Slam' the 'French-Open' begins in the last week of May in Paris. He ought to be out of action in Rome this week. If he put on muscles to avoid injury it will make him heavy, slow and even affect his reacting speed. His training will have to address such issues seriously. More work awaits him and I reckon he will do it and make it.
Match worth watching
Nadal won the Madrid-Open 2014 title when Nishikori retired in the third set. Nadal got the match, although there is no such thing in Tennis. If that match produced very fine Tennis, Nadal must have played a very big part in it. After all it takes two to play Tennis. If you are interested in Tennis, see the match Nishikori played against David Ferrer in the semi finals of Madrid Open 2014 and up to the 6-2, 3-1 against Nadal in the finals. I cannot remember any player exhibiting the game of Tennis to this perfection as Kei Nishikori.
- George Paldano, former international player; Accredited Coach of Germany, ITF and USPTR; National, Davis Cup and Federation Cup Coach–gptennis.ceylon@gmail.com -