Is it RIP Avurudu kevum and crackers as CoL bites?
By Aanya Wipulasena
Public lacks cash for traditional spending spree, say merchants
View(s):
It is not a "happy New Year" with the cost of living dampening Avurudu celebrations in all parts of the country as the public cuts down drastically on shopping and travelling expenses.
H.W. Chamara, 21, from Polgasowita, said normally people formed queues to buy homemade kevum, kokis, mun aluwa and asmi from the stall his family runs at the Maharagama Youth Centre.
"This year the sales were very bad," he said. "Only a small crowd was interested in buying the sweets. People don't have money and their other expenses are high."
Some people who used to buy from him had started making their own sweetmeats to save money.
"Earlier they bought from shops like ours because making kavum is time-consuming but now they are not concerned about this factor any more," Mr Chamara said, adding that Avurudu celebrations were diminishing year by year because of the rising cost of living.
Fireworks, which sold in bulk at this time in years gone by, are going unsold.
Nimal Somasiri, 38, from Maharagama, who has been selling Avurudu fireworks for several years, said he used to make substantial profits and would have done so by now but not this year.
He is remaining optimistic. "I think people will come this evening or tomorrow morning (New Year). I hope to make at least a marginal profit this year," he said.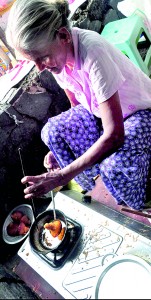 People interviewed by the Sunday Times said that even though they bought less this year their expenditure was higher.
"We had to manage very carefully when purchasing goods. Everything is very expensive. We bought just a couple of clothes for the children and a few gifts for our closest relatives," said M.N. Siriwardena from Thalawathugoda. His family had to reduce all purchases by half from last year's level and yet expenses were very high.
Prices of all goods have skyrocketed during the past few years.
Matara District Secretary Prishan Jeewaka Jayaruk said people in his area have been taking loans to have enough money to celebrate the festival.
"People want to have a good Avurudu and to buy goods – even at the cost of getting into debt," he said.
Bak Maha fairs in Matara organised by groups such as youth organisations to the Matara Municipal Council had drawn customers from areas such as Deniyaya, Akuressa and Dikwella because of the low-priced goods on sale at the fairs.
Many other districts including Ratnapura, Moneragala and Matale saw apathetic crowds; those who did indulge in Avurudu spending sought cheap products.
The branch manager of a famous garment shop in Dehiwala, Kelum Nishantha, said sales this year had increased because the store was known for its cheap goods range.
"All items on sale here are cheaper than in other shopping outlets. Because of this reason there were hundreds of people coming to buy goods from all over the country," he said adding that people came from Galle, Matara and Kurunegala areas. Mr. Nishantha said ladies' clothes and shoes were moving faster than gift items and gents' garments.
As crowds were drawn to shops selling cheaper goods other outlets saw big drops in sales. The manager of one garment outlet in Nugegoda who did not want to be named said there had been a 30 per cent drop in sales.
"People did not want to buy clothes as much as they did during previous years and this has affected our sales. People don't have much money now and are more focused on buying food than garments or accessories," he said. The manager also said that even though people took out loans to celebrate in previous years many seemed to have given that habit up too.
 Undercover police deployed
Male and female police in plain clothes are being deployed in buses in all parts of the country to ensure travellers' safety during the New Year period.
An official at the Police Media Unit said that the officials are working from morning till midnight and were on the lookout for sexual harassment and theft. "They are travelling in buses and also stationed at bus stands and provide full protection to all travellers," he said.
The special police arrangements commenced on Thursday and will continue till April 20.