Crocodile rocks households bordering canals, waterways which provide easy access
View(s):

A five-foot marsh crocodile that entered a garden in Batticaloa on Monday night was captured by the residents, the latest in a series of crocodile incursions into human habitations.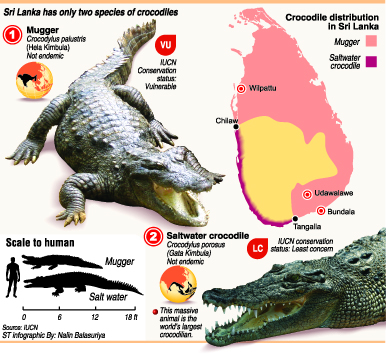 The crocodile was taken away the next morning by Ampara Wildlife Dept officials, who released it into the Kalmunai lagoon. The Dept has now initiated a survey to determine just how many crocodiles there are countrywide.
Just last month, a resident of Hunupitiya, Wattala, was injured by a 12-foot crocodile whilst he and other villagers were attempting to capture the animal. It had been feeding on dogs, cats and a small goat owned by a resident.
Residents living close to the Muthurajawela marsh, Wattala, said they had repeatedly complained to area Wildlife Department officers from February but to no avail. Villagers tried to trap the crocodile themselves because it was "getting out of hand".
"The crocodile was trying to break free from the electric pole we tied it to," said P. Victor, a resident. "It was struggling. It was hissing and slashing its tail aggressively." Others said that a man had been trying to blindfold the animal when the ropes around its head loosened and the crocodile bit him.
''The man was lucky that he was able to free his hand from its mouth and only his wrist was injured," Mr Victor said. Wildlife officers then arrived and one sat on its neck, bound its jaws and eyes with a large cloth, and they carted the reptile away.
Two more crocodiles have been sighted in the area around the canal and its waterways. "When I was driving my bus, I saw two crocodiles near the small bridge in Hunupitiya, Wattala," said Ajith Hewawitharana.
Wildlife officers said smaller saltwater crocodiles are mostly reported from the areas of Hamilton Canal, Dadugam Oya, Ja Ela and connected waterways. They are also known to frequent Magam Hunupitiya, Eeriyawetiya, Modera and Muthurajawela. Recently, however, larger saltwater crocodiles have been sighted in Kalu Ela while some were spotted near A.S.P. Liyanage Mawatha in Wattala.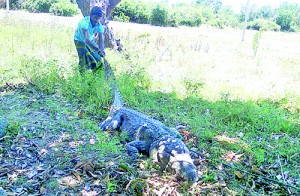 A recent proposal to set up a crocodile sanctuary at Muthurajawela was abandoned because residents opposed it. They feared that crocodiles would escape when there was flooding, posing a danger to humans. At present, the captured reptiles are released into Wilpattu, Bundala and Udawalawe National Parks.
Wildlife officials said they were short of cages to trap crocodiles. This was why they delayed to respond to complaints. The few cages they have are transported around the country whenever a crocodile is sighted. Meanwhile, the method of trapping these animals in cages could take weeks.
Residents take matters into their own hands because of this. "They often use fishhooks to try and catch the crocodiles," said one official, requesting anonymity. "This injures the crocodile and can sometimes kill it. Humans also get hurt."
Wildlife officials said they have not been sufficiently trained and that they risk their lives to protect both crocodiles and people. He also said humans had encroached crocodile territory. Some fishermen kill the adult animals for flesh and sell it as a delicacy. Their skins are sold for various other products. Young crocodiles are stabbed and killed.
Authorities said a progamme was required to help crocodiles survive in the wild. A sanctuary in a safe place would help towards this. "Muthurajawela was made a National Reserve because of crocodiles and they need to be preserved," one urged.
Crocodile attacks have shown a rapid increase in the fast urbanising Southern Province, said the province's Assistant Director of Wildlife, Prasanna Wimaladasa. He assumed that around 300-350 adult crocodiles along with another 300 young crocodiles were there in the province.
"Last year, we saw a series of crocodile attacks, one after another," he said. "This year, two attacks have already occurred." The first was in February in the village of Thelijjavila, Akuressa. A schoolboy was bathing in an area where there was no protective fence, and was dragged into the water by a crocodile. His body was later recovered.
The second attack was in Dehigahalanda in Ambalantota. A 59-year-old woman was killed the same month by a 11-foot 'mugger' crocodile. It was around 6.30 pm and the woman had gone to draw water from a canal. Only the remains of her body were found. They eventually caught the amphibian and relocated it to Yala National Park.
In 2013, Wildlife officials raised awareness among schoolchildren in Malimbana and Aturaliya about crocodile dangers. Mr Wimaladasa said this was not enough and that adults needed to be more informed as well. He blamed an increase in human activities around water bodies for the rapid rise in crocodile numbers. For instance, sand-mining made rivers wider and deeper and therefore, more conducive to breeding of large crocodiles. Some abattoirs and fish markets throw rotten meat, flesh, skin and bones into waterways and canals.
-K.W.