"Determination to be crowned the 'Miracle of Asia' through national reconciliation"
President Mahinda Rajapaksa's New Year Message
View(s):
President Mahinda Rajapaksa in a New Year message said, "Our determination in the forthcoming Sinhala and Hindu New Year should be to be crowned the 'Miracle of Asia' by bringing about national reconciliation."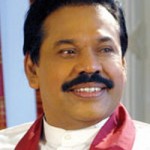 Wishing the nation a Happy and Prosperous New Year President Rajapaksa said, "We are delighted to welcome the Sinhala and Hindu New Year during a time when the building up of a self-sufficient nation is under way."
The message said;
"A complete human being, not only made of flesh and blood but with a good heart, is shaped through a great culture that upholds solid values. The Sinhala and Hindu New Year is one of the magnificent cultural festivals of this land that paves the way for such an outcome. Upholding the age old traditions thus far is a-sign of a nation moving towards prosperity"
"We welcome this New Year in a period when all the production sectors of the country, including agriculture record an improvement. Creating communal harmony is a prerequisite required to expedite the development of a country".
"The most vibrant characteristics of the New Year customs and traditions are social harmony and reconciliation. The harmony within a family then spreads to villages and towns and encompasses the whole nation".