Ajantha's baby catch at Galle Face cricket party
View(s):

It was a case of a human ball, or a little child, who fell on the hands of one Sri Lankan cricketer last Tuesday.

The triumphant Sri Lankan team that won the T-20 International Cricket World Cup in Dhaka, arrived at the Bandaranaike International Airport on Tuesday. They boarded an open deck double decker bus for their journey, first to Temple Trees and later to the Galle Face Green.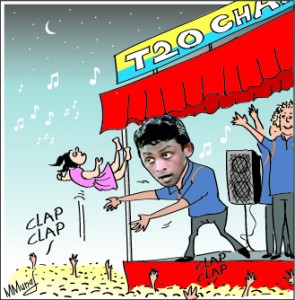 Crowds lined both sides of old road to the airport (not the expressway) to cheer their cricketing heroes. At the Galle Face Green, an overzealous couple was forced to part ways with their child. Surging crowds had divided them.
The child was passed from one to another until the child reached the arms of Ajantha Mendis. He was as deft with the child as he is with the ball. He hugged the child and later the parents took over.
Cricketer Tillekeratne Dilshan was overheard recounting this encounter by his colleague to Parliamentarians on Wednesday. This is when MPs of the Government and the Opposition feted them. When the Galle Face event was over, some motorists were lulled so much in national euphoria. They even drove on the wrong lane but the traffic cops were considerate.
Off-the-field encounters by Sri Lankan cricketers are voluminous. Once, master batsman Sanath Jayasuriya told a Government official his experience during a tour of Australia.
In Melbourne, he had been to a Sri Lankan home. Later, one of the guests had volunteered to drive him to his hotel. They were on the way when the police stopped them. The driver was under the influence of liquor. That was bad enough. The Policeman found out that the driver had not cleared immigration formalities to enter Australia.
A conversation ensued with the policeman. Just when Jayasuriya introduced himself, the policeman was so thrilled. He shook his hands and declared "you are my favourite batsman." Then he delivered a warning to the driver and asked whether he could drive. When he said "yes," the man was allowed to go. As one wag remarked, "cricketers as our ambassadors are better than some of those serving the country."