Testing time for young seniors against the Kiwis
Kaushal Silva and other talented players under special scrutiny, says Sanath
View(s):
The lack of international matches till November is in a way a blessing in disguise to the Lankan cricket selectors.
According to Sri Lanka Cricket Selection Committee Chairman Sanath Jayasuriya, he and his team are expecting to make maximum use of this opportunity during the New Zealand 'A' team's current tour of Sri Lanka. They will make it an opportunity to have a look at some of the young promising players and also give exposure to the set of young seniors to get some much needed match practice.
Jayasuriya then added: "However, the player that I want to keep a tab during this series is top order batsman Kaushal Silva. He batted well during the 'A' team tour of the West Indies and he also has been scoring runs during the home tournaments.
"There is a likelihood of T.M. Dilshan retiring from the longer version of the game after the Pakistan series. So we have to be ready. At the top we have Dimuth Karunaratne and Udara Jayasundera opening the batting. Kaushal Silva could come in at number three with Chandimal batting at number four".
The selection committee chief also said that another batsman whom the selectors would like to have a closer look is Ashan Priyanjan. "He is also a talented player with a lot of potential and the other batsman whom we will be looking close at is Kithruwan Vithanage." Jayasuriya said.
He also thinks that they owe young and talented Kusal Janith Perera another chance to prove himself. "In the longer version of the game we want Kusal Janith to bat in the middle. He will play in the second Test. Right now he is batting very well. What we want him to do is to convert that talent to performances in the middle. A batsman of that nature coming in the middle gives an advantage to the batting side because he gets his runs very quickly".
Jayasuriya added that the Lankan team management is hoping to prepare 50-50 wickets for the entire
series so that the batsmen will have to use their real skills to make an impression. He added: "If flat wickets are given we will not be able to gauge them properly. They may score on the flat wickets, but when they go overseas and get seaming wickets, they struggle. So the wickets for this series will be good wickets, where there are equal opportunities for the bowlers and batsmen".
Among the bowlers, especially spinners, Jayasuriya said he wanted to keep a close vigil on Dilruwan Perera. He would function as an off spinner and a run scoring lower order batsman. Also in the perimeter are off spinner Sachitra Serasinghe.
Among the seamers who are under close scrutiny are Nuwan Pradeep, Madura Lakmal and Vimukthi Perera who should make it to the first four-day game.
The New Zealand 'A' team cricketers who arrived in the island on Friday, took a drive up to Kandy where they would have a session in the middle prior to their first four-day game which begins on September 17 at the Pallekelle International Cricket Stadium.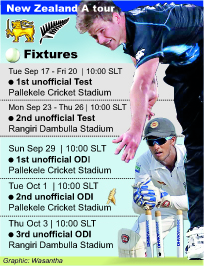 comments powered by

Disqus