Thilan smiles in his final drive – home
View(s):

Lanka's Test drought claims its first victim 

By Naushad Amit

It might be a coincidence or fate but the month of March will surely be of everlasting memories for the now-retired Sri Lankan 'wall', Thilan Samaraweera.

In 2009 March Samaraweera had to expect the unexpected, when the touring Sri Lanka cricket team's bus came under terrorist attack metres away from the Gadaffi Stadium in Lahore, Pakistan. Samaraweera was the only serious casualty among the Sri Lankan cricketers who became the only team in world cricket to come under a terrorist attack in reality. He had to undergo surgery to remove the bullet which travelled almost 12 inches through his thigh. As a result Thilan received physical and psychological therapy for nearly four months. His grit and dedication to his vocation was such that he was back in the Sri Lanka Test team four months later.

But four years and three days after that incident, Samaraweera shocked many a Sri Lankan cricket fan, by announcing his retirement from international cricket, vowing not to make a return to the world cricket arena ever again. At this point the man with that grit to overcome a shock of a real bullet was a man with broken pride and ego – a psychological casualty where according to Samaraweera, "Fate of another life lies in the hands of another". He added this communication barrier, had been in existence with Sri Lanka Cricket for ages. Understanding, this inalienable truth he decided to call it a day.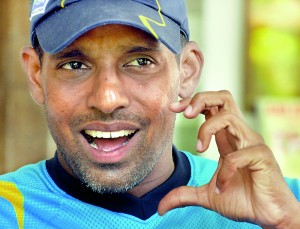 "National selectors stated that I'm under their radar but they related to me of their desire to give youngsters the opportunity, especially against sides like Bangladesh and Zimbabwe, which is a good move. But for a certain period the media had come out with different narratives with regard to my career. Some stated that I was sacked or axed and some came out with stories that I was going to retire after a certain tour, which even confused me. The prime problem here, as I understand there is a prevailing communication gap, between the officials, selectors, the team – I mean the players and the media.
"In 2006 I was dropped after my failure in England, where I was sandwiched between the decisions of the team management and selectors. I became the best batsman for three years but yet they did not consider me for selection for some time and was dropped again in 2011. At times I have felt that some unseen power was behind me being axed. But the selectors and officials went on to say contradicting stories at both occasions. It has been in existence for a long time and this gap is unimaginably huge," Samaraweera stated in an exclusive interview with the Sunday Times.
Samaraweera, a veteran of 81 Tests who had scored 5462 runs at 48.76 per inning, inclusive of 14 hundreds and also played 53 One Day Internationals, had been a silent servant of the Sri Lanka Test team more than occasionally rising to the situation when it was really needed.
If one could remember how his grit turned the Tests in favour of Sri Lanka, especially against the West Indies and South Africa in away tours, the back-to-back double hundreds in Pakistan. But Samaraweera, who aborted his contract on March 6, insists that transparency among officials could play a pivotal role in maintaining a team's mental stability in international cricket.
"Officials say one side of the story and the media is given a wrong picture. Sometimes on certain issues players come under a contract where there is a clause that says they cannot talk to the media. The responsible parties or the officials however, are not transparent in their actions, so at times the players and media are misled. I think it is important to seek a remedy if cricket operations be it on field or off the field to prosper," he added.
One of concerns that forced Samaraweera to his sudden retirement was the lack of Test cricket for the current year and in time to come. He however opined that the present hierarchy of Sri Lanka Cricket (SLC) could not be held responsible for this debacle.
"I'm not an expert about how the FTP (Future Tour Programme) of a cricket board works. But it is clear that those who held office in the recent past are partly responsible for the Test cricket drought that is faced currently," he asserted.According to Samaraweera's evaluation Test cricket is an essential format for a country and the world to help youngsters or emerging players build up character. This ardent lover of Test cricket is of the view that Sri Lanka is at the moment clueless about their journey in Test cricket.
"Test is the format that should be promoted. If you take other countries like, South Africa, England, Australia and even India, despite having the Indian Premier League (IPL), Test cricket is given due recognition. They play at least 12 games per year but Sri Lanka, it seems, is less worried about the Tests which is the real test of all. Sri Lanka should play more Test matches; an average of 8 to 12 games per year which is a healthy count. Also we should play at least three-match series. I'm not a great fan of two-match series. This situation hinders the progress of the younger generation. It will give a wrong message and more players will be attracted to shorter versions. If you are a good Test player, playing ODI will not become a big deal. But for Twenty20 you need the energy. I think there must be a good balance among all three formats. The best example we could get is India".
Sri Lanka was supposed to play nearly ten Test matches this year. But it was later brought down to five Tests – two against Bangladesh and three against Zimbabwe – postponing the tours against West Indies and South Africa to as far away as 2015. This was an unexpected blow to cricketers who represent Sri Lanka only at Tests. Samaraweera being one of them made an easy option to call it quits after a disastrous tour of Australia. But he regained form in the ongoing SLC Premier League tournament by topping the batsmen's list with 464 runs at 92.8 in four matches. With the present development Samaraweera revealed that he might not continue with the rest of the tournament for his long serving club, the Sinhalese Sports Club. But he will turn out for English county side Worcestershire for 12 four-day first class matches in the coming six months. Depending on the progress Samaraweera said that he will take a decision whether to retire from first-class cricket, before pursuing a career in coaching.
"Before I came to this decision I spoke to my wife, my brothers and sisters, my mother and former coaches who are close to me. My wife and two brothers respected my call. So it's not a sudden decision; I had the intention for a while but with no Test cricket for over eight months after the Bangladesh tour and my name being cut out from the final squad, it was easy to decide. I felt that they (selectors) don't need my services anymore to be honest".
Samaraweera was earlier rudely dropped twice; once for more than a year in 2006 and then again for one series in 2011. But the specialist middle-order batsman who made his debut in 1998 for Sri Lanka in an ODI game as a specialist spinner, made strong comebacks cementing his place in the Test side before facing a sudden off-coloured tour in Australia where Sri Lanka faced a 3-0 whitewash. He stated that he had very little regret as a player and even the fact that he could not get a fitting farewell game. That does not worry him. It was the way he got out in his last game, trying to loft and being caught in a childish dismissal in the Sydney Test.
"If I had regrets, it's for not being able to win the 2011 World Cup where I was also part of the team. I have played 81 Tests for the country and stood up when they needed me the most, but my regret is the last impression that I left in Australia. Yes, I failed in Australia and I'm not the only batsman in the world to experience this. It is an accepted fact that you experience a bad patch once in a while. I wish I wouldn't have got out the way I was dismissed in Sydney, because it eventually became my last game and many may remember me for that, over my previous achievements. I don't consider the bad shot which got me out as a turning point in my career. But sadly it was one of the reasons to lose the game. Even former coach Stuart Law, who was a member of the Australian team that lost to Sri Lanka in 1996, too had the similar experience. He told me about how Sri Lankans remember his dropped catch of Asanka Gurusinha in the final more than the World Cup triumph."
"Michael Hussey got a fitting farewell coincidentally in my last international appearance. Mahela Jayawardene, Kumar Sangakkara, TM Dilshan and Nuwan Kulasekara are some of the seniors who have done an immense service as cricketers for Sri Lanka. My wish is at least they would get a fitting farewell unlike me. In that case I think Murali (Muttiah Muralitharan) got the farewell he well deserved. He went out as a hero. But as far as I am concerned international cricket is history to me" That final ironic smile which came from that Lankan wall which withstood the meanness of a real bullet I would never forget.
- Pic by Amila Gamage

Follow @timesonlinelk
comments powered by

Disqus