No shortage of assurances, but shortage of action: UK MP
View(s):

Khuram Shaikh murder in Tangalle:

Calls for Queen Elizabeth 11 to  boycott CHOGM, while victim's brother laments 15 months after his brother's brutal slaying the suspects are out on bail

By Nadia Fazlulhaq

The head of the Commonwealth, Queen Elizabeth 11 will be urged to boycott the Commonwealth Heads of Government Meeting (CHOGM) to be held here in November, as this country has failed to do justice to a British Red Cross worker who was brutally murdered in Tangalle, a British Parliamentarian said. British Member of Parliament for Rochdale (Manchester), Simon Danczuk was in the country along with Nasir Shaikh, brother of Khuram Shaikh (32) who died a brutal death, while involved in a dispute at a tourist resort in Medilla, Tangalle, on Christmas Eve 2011.

"I think it is highly inappropriate for the Queen to participate, if the case is stalled and the killers are not brought to justice. We are extremely concerned and strongly think that there is a need for more haste and speed in terms of prosecution and the trial to get started," Mr. Danczuk said.  According to him, the family has received many assurances from Sri Lanka, during the past 14 months.

"There is no shortage of assurances, but a shortage of action. The most senior member of the Sri Lanka government put forward to meet us was the Economic Development Deputy Minister M. Hizbullah. I am extremely disappointed. Anyway, that's the government's decision, and perhaps, it reflects on where it is in terms of this case," he added.

He said that it is also very unfortunate that two British nationals were allegedly assaulted by a local politician, not even 24 hours after arriving in the country.

"This lack of progress could jeopardise the British Government's desire to attend the Commonwealth Summit in November. If the justice system is slow, it's fine, but our concern is that there is political patronage and the suspects are walking free."

"My brother is gone and all the suspects are walking free. It is heartbreaking to the family." –  

Nasir Shaikh, 

brother of Khuram Shaikh

MP Danczuk said that attempts to contact senior ministers including Economic Development Minister Basil Rajapaksa under whom tourism comes, had failed. He said that, with Sri Lanka playing host to the Commonwealth Heads of Government Meeting this year, this case is a great opportunity for the Government to show the world that it shares Commonwealth values.

He said that he has raised this issue in the British Parliament and with British Prime Minister David Cameron and Alistair Burt, Parliamentary Under Secretary of State at the British Foreign and Commonwealth Office. Khuram, from Rochdale, Manchester worked as a physical rehabilitation manager for the International Committee of the Red Cross in the Gaza Strip. He was an expert in providing prosthetics for those who had lost limbs in the war-torn Gaza Strip.

Khuram was killed instantly, by a group heavily intoxicated, and his partner, a 23-year old Russian national Victoria Alexandrovna, was assaulted and dragged to the beach. She was later found on the beach with her clothes in tatters.

Among the suspects was 24-year-old Tangalle Pradeshiya Sabha Chairman Sampath Chandra Pushpa Vidanapathirana. The others were the chairman's private secretary Mohottige Saman, Nalagama Pradeep Chaturanga, Saman Deshapriya, Obada Arachchige Lasitha, Niroshan Weerakoon, Manoj Prasanna and Buddhika Pradeep.
The suspects surrendered two-days after the incident and were remanded. On November 2012, the eight suspects were released on bail by Tangalle Provincial High Court Judge Lalith Wijesekera.

"The suspect politician being released on bail came as shocking news, and I was devastated, irrespective of whether he is the key suspect or one of the eight suspects. As it was a murder investigation, I thought that the custodial part of being remanded for 11 months should have continued till the point of a trial. This gives me and my family a wrong message, because it proves that he is a suspect, but allowed to walk free until the trial," said his elder brother Nasir.

He said that they had given the opportunity to let the investigations take its course, but throughout the year, it has been only words with no substance behind it

"Now 15 months have passed since my brother was brutally murdered, and the suspects out on bail, with no further trial taking place. We need to speed up the process, and for that, we need to meet senior officials. We have questions on forensics, the chief suspects and reason behind delays. Khuram's role in society was huge, not only his friends and family, but also his organisation, the Red Cross," said Nasir.

He said his family is still grieving the death of their loved one, and his father visits the grave many days of the week. "My brother is gone and all the suspects are walking free. It is heartbreaking to the family. 'Justice delayed is justice denied' should not happen in my brother's case. This will reflect negatively on the tourism industry," he said, adding that this was his first visit to this beautiful country.

Sri Lanka has the highest number of tourist arrivals from Western Europe. The United Kingdom is second to India in tourist arrivals.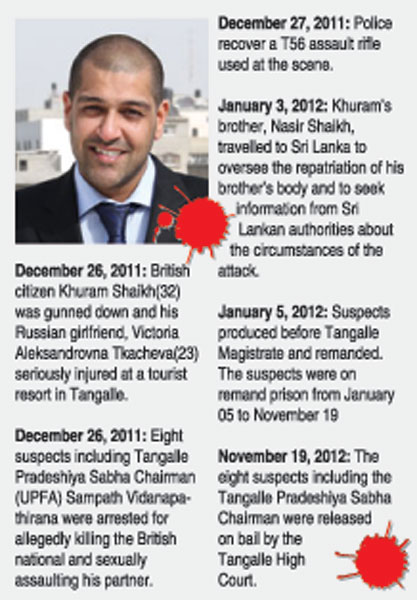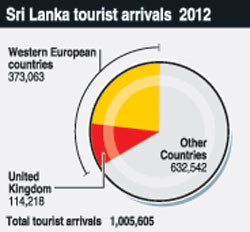 Follow @timesonlinelk
comments powered by

Disqus