Private bus operators pay 'kappam' to survive
View(s):

By Damith Wickremasekara

Private bus drivers are compelled either to speed and race with other buses or drive slowly to collect more passengers, as they have to find extra money to pay 'kappam' or extortion fee, a senior Transport Commission official said yesterday.

Complaints lodged by private bus owners to the National Transport Commission (NTC) that bus drivers are forced to pay a minimum of Rs 300 on each of their turns, resulting in losses, and leading to poor service to commuters, NTC Chairman Roshan Gunawardena told the Sunday Times.

The complaints from both, owners and bus drivers, has prompted the NTC to deploy its men in civvies to detect 'kappam' collectors and arrest them with the help of the police. "Our investigations reveal that, even in Pettah, 'kappam' is collected from bus drivers through fruit vendors, betel sellers and shop keepers at the stand', he said.

He said that the NTC now intends to get police assistance to arrest those collecting 'kappam' as well as those helping such persons.

He said that some of the bus drivers were willing to provide information, as they wanted to stop paying 'kappam' for the losses they undergo.

"We have also found that persons collecting 'kappam' help bus drivers in various ways, such as providing them information as to the best time to reach the bus halt, to ensure maximum load," he said.

Citing an example, he said, sometimes, bus drivers are alerted on their mobiles that the number of passengers at the bus halt is poor, and to delay the journey, or that, there is already a bus parked at the halt, and hence, to delay its arrival.

"As a result, it is the passengers who suffer. We want to stop this", he said. A bus driver in Pettah, who did not wish to be identified, explained the process of collecting 'kappam', thus said, they have to pay Rs 200 to the timekeeper, and failure to pay has gangs following the bus in three-wheelers and boarding it to threaten the driver.

He said that, in addition, persons claiming to help load buses, demand Rs 50 or 100, though each of the buses have their own conductor whose duty is to collect passengers. He said that these extortionists create competition between buses leading to accidents.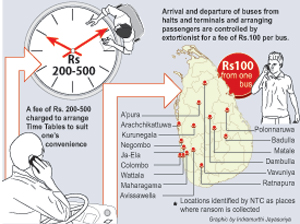 Private Bus Owners Association President Gemunu Wijeratne said that the problem of paying 'kappam' has been a longstanding one. "The timekeeper's salary is around Rs 15,000, but they usually collect another Rs 35,000 to Rs 40,000 through 'kappam'," he said.
He said that touts helping to load buses are usually politically connected, and therefore, no action is taken against them.
He said that the amounts collected run into millions."The bus industry will collapse if 'kappam' collection is not stopped," he added.
Follow @timesonlinelk
comments powered by

Disqus