Flood, fret and tears
View(s):

16 of the country's 25 districts badly affected by heavy rains and strong winds 

By Nadia Fazlulhaq and Hansani Bandara

Heavy monsoonal rains with strong winds lashed across the country this week, with earthslips and floods claiming 27 lives and affecting more than 300,000 people, especially in Central, Eastern, Southern and North-Western provinces.

As the inclement weather wrought havoc, officials said 14 people were unaccounted for while more than 50,000 people had found refuge in makeshift camps.

From the highlands of Kandy and Nuwara Eliya to the lowlands of Hambantota, Batticaloa, the severe weather conditions left a trail of devastation across 16 of the country's 25 administrative districts.

According to the latest update from the Disaster Management Centre (DMC), some 328,913 persons or 82,687 families are affected in the Anuradhapura, Ampara, Badulla, Batticaloa, Hambantota, Kandy, Kegalle, Kurunegala, Moneragala, Matale, Mullaitivu, Nuwara Eliya, Puttalam, Polonnaruwa, Ratnapura and Trincomalee districts.

Matale recorded the highest number of deaths-eight- followed by Kandy with four deaths while Badulla and Polonnaruwa recorded three deaths owing to flash floods and earthslips.

The Batticoloa and Hambantota districts recorded two deaths each while the Moneragala, Ampara and Trincomalee districts had one death each.

Irrigation Department Director T.J. Meegastenna said water levels in 31 of the 71 tanks and main reservoirs in the country had reached spill level and they were compelled to open the sluice gates in most reservoirs.

She said water levels of Walawe, Amban and Mahaweli rivers were rising while Maduru Oya, Deduru Oya, Yan Oya, Mee Oya were overflowing causing floods in several areas.

Some 211,775 people were affected by the floods in the Batticaloa district, making it the worst flood-hit area. The Hambantota district comes second with some 37,749 people being affected.

In the Batticaloa district, the Batticaloa town, Kattankudi, the Eravur town, Manmunai north, Koralai Pattu Central and Koralai Pattu went under several feet of water as a result of the three main rivers that run across the district breaching their banks.

According to Irrigation Department officials, water levels in the district's tanks at Weligaha, Wadimunai, Kithulwewa and Kaddamuri were also rising rapidly.

In the Polonnaruwa district, the villages of Thammankaduwa and Lankapura that went under several feet of water bore the brunt of the bad weather while residents in several villages including Thambuttegama, Thalawa and Somawathiya were also hit by the floods. As the water level in Parakrama Samudraya, one of the biggest irrigation tanks in the country, rose rapidly, the authorities were forced to open the sluice gates after issuing flood warning to residents.

In the central hills, heavy winds and torrential rain caused floods landslides and earthslips in several areas while heavy mist and boulders that fell on roads disrupted traffic. The most number of earthslips was recorded from the Matale district, especially from Rattota area.

In the Nuwara Eliya district, officials said a large soil mound blocked the A5 road near Hakgala but the worst affected areas were Hanguranketha and Walapane.

Nuwara Eliya District Secretary D.P.G. Kumarasiri said heavy mist prevailed for a few days not only disrupted vehicular movements and but also made rescue and road-clearing operations difficult. The biggest challenge the officials faced was to ensure the smooth conduct of the just-concluded GCE Ordinary Level examination. The District Secretary said they used state vehicles to transport students to the exam centres and back while security forces personnel and Disaster Management Centre officers helped in the road clearing work.

Similar arrangements were made in other weather-affected districts also to transport students to exam centres and back in state vehicles.

However, despite these arrangements, some students missed the exam on Monday and Tuesday. The Department of Examination advised these students to call the hotline 1911 and inform their inability to arrive at the exam centres.

Examinations Commissioner W.M.N.J. Pushpakumara said moves were underway to hold a separate examination for these students in the coming weeks or months.

In Chilaw in the North Western Province, due to Deduru Oya and several streams overflowing their banks, many areas went under water with the state hospital, the main bus stand, the public market and the railway station being inundated. Several roads also went under water, making them impassable.

About 300 patients who were receiving in-house treatment at the hospital were transferred in ambulances to the Colombo North Teaching Hospital in Ragama and the district hospital in Puttalam, officials said.
Some, 56,744 people or 15,589 families are being housed in 174 temporary camps, according to officials. They said some 1,434 houses were destroyed by the floods and 4,782 houses partially damaged.

In the Kurunegala district, about 400 persons trapped in the rising flood waters in the villages of Molaeliya, Gawulava and Adukkuliya – in the Sigiriya electorate — were rescued by the Navy. Some 200 people saved themselves by climbing on to the roofs of their houses and spent two days till the Navy boats came to their rescue.

Kurunagala District Secretary H. M. Hitisekara said more than 730 families had been displaced in Sigiriya, bringing the total number of displaced families in the district to 4,000. They were being housed in 22 makeshift camps.

He said that the Kurunegala Teaching Hospital, several houses and some roads had been heavily damaged due to the floods that was largely caused by Wekaruwa River overflowing its banks
Hospital officials said the floods caused damage to equipment and they hoped it would take at least two months to restore the hospital to its former condition.

Vehicular movements on many key roads including the Colombo-Kurunegala Raod came to a halt while the bridge in front of the hospital was damaged. Authorities took prompt action to build a temporary bridge. Addressing the media, Disaster Management Minister Mahinda Amaraweera said that 25-member teams consisting of highly trained people in disaster management had been deployed to makeshift camps while the ministry had also obtained the support of the Navy and the Air Force in rescue operations.

"So far 34 Navy boats have been utilised to carry out rescue operations in flood-hit areas. The ministry has released sufficient funds to district secretaries to provide food for affected families," he said.

The minister said he had received reports of irregularities on the part of some officials in the distribution of food and warned disciplinary action would be taken against them.

Asked why the Government did not declare an emergency situation, the minister said such a measure would be counterproductive, especially to the booming tourism sector. Besides, it was not necessary because the Government was confident of dealing with the crisis.

National Building Research Organization Director General Asiri Karunawadane said people living near embankments should be extra cautious since the breach of the levees could not be predicted.

He said people and those who use roads in hilly areas should take precautions if the area received a rainfall of at least 250 mm for two consecutive days because it could cause earthslips.

Meteorology Department Director General S. H. Kariyawasam said the current rain pattern would continue for at least another week or so though there could be some sunny days in between.

He added that showers could be expected during any time of the day in the Eastern, Uva, Sabaragamuwa, Central and North Central provinces while wet weather would also prevail in the Eastern slopes and the Matale and Hambantota districts.

"The Western slopes, the central hills, Sabaragamuwa, the Western province and some parts of the North-Western province will experience thunder showers," he said underlining that the crisis was not yet over.

Under six feet of water, but no Government help

With Deduru Oya overflowing its banks for the first time in 40 years, more than 1,500 families in Anavilundawa, Illankattuwa, Halabawatawana and Jayarathnapura in the Puttalam district were taken unawares on Wednesday morning as flood waters encircled them.

Some of them sought the help of their relatives while others managed to seek refuge in temples, churches, and public halls.

The victims complain that the much-talked about government aid has not reached them while no government official has visited their villages in the Arachchikattuwa divisional secretariat division.

"We lost all of our possessions in the flood. Our houses went under six feet of water, but none of the officials even bothered to visit us to at least witness the catastrophe that has hit us," Rohitha Perera, a resident of Anavilundawa said.

Another villager, Anusha Nilmini from Illankattuwa said. "We earn our living from animal husbandry and all our animals were swept away in the flood. People from neighbouring villages helped us by providing with food and other essential items. We have not received any assistance from the Government."

But Col. R. S. K. Ranaweera, the district's Disaster Management Unit chief, said there were some problems in sending relief to the victims but they were rectified and the victims would be taken care of.

However, Arachchikattuwa Divisional Secretary H. S. S. Lusena denied the allegations, claiming that officials had already visited these areas and taken necessary action.

Disaster-prone areas in the Central Province

Kandy: Medadumbara, Pathahewaheta and Gangawata Korale. All roads, including the Kandy-Mahiyanganaya road.

Nuwara Eliya: Walapane, Hanguranketha, Nuwara Eliya, Kotmale and Ambagamuwa Korale. All roads including Kandeketiya-Ragala road, Hali-ela-Nuwara Eliya road, Nuwara Eliya-Hatton road, Gampola-Nuwara Eliya road, Norton Bridge, Laxapana and Castlereigh area.

Badulla: All divisions except Mahiyanganaya. All roads including Beragala-Haputale, Beragala-Wellawaya road, Ella-Wellawaya road, Meegahakivula-Badulla road, Badulla-Welimada road, Welimada-Maspanna road.

Matale: Rattota, Ukwela, Yatawatte and Laggala,. All roads in including Balakaduwa stretch on A9 road, Ukwela-Kandenuwara road and Matale-Riverston road.

Kurunegala: Mallawapitiya, Mawathagama, Ridigama. All mountainous areas and man-made slopes.  Hambantota: Katuwana, Walasmulla and all mountainous areas and man-made slopes.

(Additional reporting by Hiran Priyankara Jayasinghe from Puttlam, Pushpakumara Jayaratne from Kurunegala and Shelton Hettiarachchi from Nuwara Eliya)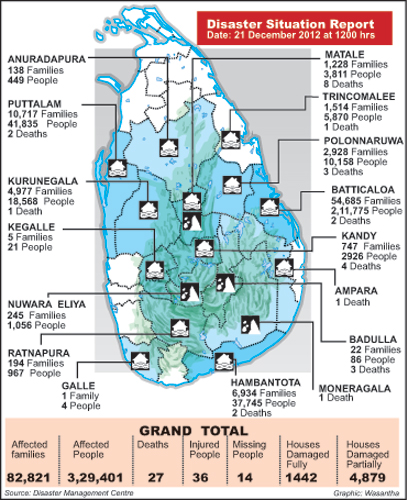 Road between Gallella and Manampitiya  closed
The Polonnarwa –Batticaloa road was closed between Gallella and Manampitiya after the stretch went under more than four and a half feet of water following the opening of all the sluice gates of the Parakrama Samudraya last evening.
Police said the road was closed around 7 p.m. yesterday after the area began to flood. "We have closed the road to ensure the safety of the people and it will remain closed until it is declared safe," police said
Train services however on the Batticaloa-Colombo line will continue to operate.
Follow @timesonlinelk
comments powered by

Disqus