A healthy road map for alms and monks
View(s):

By Nadia Fazlulhaq

Sugar-free tea, non-fat yoghurt, green leaf sambol, boiled gram and breadfruit, bitter gourd, lotus root curry are some of the recommended healthy dishes for Buddhist monks included in a menu plan issued by the Health Ministry.

The Medical Research Institute (MRI) prepared the menu following a request by the Health Minister to prevent non-communicable diseases such as diabetes, high blood pressure, cholesterol and cancer among the clergy.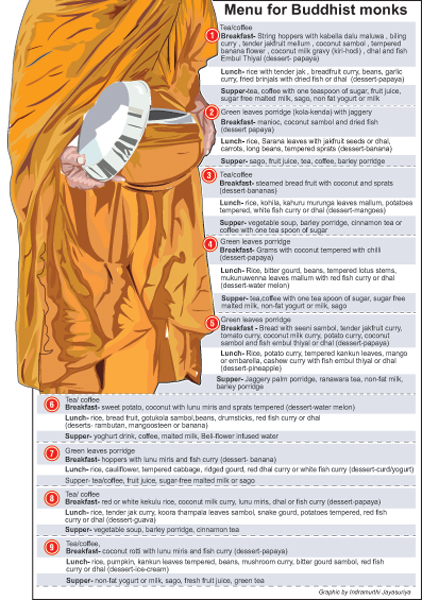 The menu consisting of nine healthy options will be sent to temples and monks and the public are requested to make a note of them when offering alms (dane).
MRI Consultant nutritionist Dr. Renuka Jayatissa who prepared the menus told the Sunday Times though the request was made by the Minister of Health Maitripala Sirisena specifically for monks the public too could follow them when preparing meals for the monks.
Dr. Jayatissa said the menu plan was a result of a study conducted by the Western Province health directorate among monks in the city and suburbs. It revealed that 50 percent of the monks were suffering from non-communicable diseases. Tests results showed that one third of them suffered high cholesterol levels, she said.
Dr. Jayatissa said clinicians have warned that a similar situation prevailed in outstations too. "We also recommend a 30 minute walk daily even within the temple premises and request the public to avoid serving oily food when offering alms and promote raw salads and fruits as dessert," Dr. Jayatissa added.
In addition to the menus the MRI has also come up with an advisory to the public. It requests the public when preparing meals for monks to minimise the excess use of oil, with suggestions of offering only one fried dish per meal, avoiding deep fried food and the use of both coconut oil and milk in one dish.
The advisory also suggests when offering dessert to avoid cakes biscuit and food items made of margarine and instead offer a healthy diet of fruits. It also recommends the use of red and white kekulu rice while reducing the frequent use of keeri samba.
The priests have been requested to have at least three servings of vegetables and two fruit servings with emphasis on the importance of drinking at least 6-8 glasses of water daily too.
"If desired to offer meat, it can be substituted with fish or dry fish. If the priest is vegetarian, substitute with pulses. Consuming eggs is recommended for young monks," Dr.Jayatissa said.
Anunayake of Amerapura Sri Dhammarakshitha Chapter, Ven Thrikunamalaye Ananda Thera said as a practice Buddhists monks do not have a meal at night because a heavy dinner could result in an unhealthy body.
"Sri Lanka needs a proper nutrition policy and I hope this set of menus will be a beginning of such a policy. Some religions practice fasting to maintain a healthy body," the Thera added.
The Ven. Thera said in many homes when an alms giving is offered dessert consists mainly of ice-cream, cake and puddings whereas the healthier option would be fruits,
A senior lecturer at the University of Sri Jayawardenapura, Ven. Dambara Amila Thera said there was a significant change in the lifestyles of monks leading to non-communicable diseases at an early age.
In the past monks would go from house to house seeking alms. But now, he said, even if the alms were given at a house close to the temple a vehicle was sent to transport the monks. "We cannot blame the laymen. They do it out of respect. Most of the Buddhist monks are now involved in teaching or learning. It is important for the monks to resume activities like sweeping the temple premises or walking in the premises," Ven.Amila Thera said.
The Thera pointed out that the public should pay more heed about the health of the monks when preparing alms.
"In some places a dane consists of a number of fried dishes and since it is bad to refuse we are compelled to eat them. It is also important for the people to understand that a dane is not about showing off one's social status or competing with some neighbour about the number of dishes offered," the Ven. Thera pointed out.
Meanwhile parliamentarian Ven. Athuraliye Ratana Thera said about five million people in the country suffer from diabetes and other non-communicable diseases, and this had made most people laidback and lethargic especially young children.
"In countries like Japan monks have a strong influence on the healthy lifestyles of the people," he said.
Follow @timesonlinelk
comments powered by

Disqus