For the Arabic epicurean
View(s):

By Duvindi Illankoon

Hospitality is a way of life in Sri Lanka. At Arabian Knights it's a mantra. The newest addition to Marine Drive's eclectic collection of restaurants, Arabian Knights specialises in 'authentic Arabic cuisine', served with a killer smile by a rather charming Syrian chef and some friendly owners . However, be not fooled by the micro-sized venue or the unassuming decor inside-Arabian Knights (AK), as its apt name will already tell you, is determined to do things differently. "I can tell you how great our food is, you know," says Tareq Al Khalil, the Syrian half of the duo behind AK.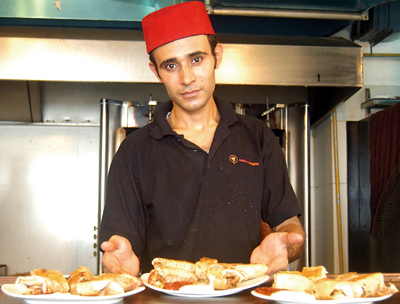 "But you'll never know till you've tasted it for yourself." One could wax lyrically about the oozing delights of the Syriana Spicy Chicken Shawarma or the creamy consistency of the hummus. The heart-shaped falafel, fondly known as 'Arabic vadey' is crispy sesame-coated goodness. The Damasco Fries with the Garlic Sauce is worthy of the trip to AK alone. Be wary of the Kibbeh however (in chicken and beef), unless you have a stomach for very heavy, very oily food.
The fairly new venture is a local family business run as a partnership by two very good friends-one Sri Lankan and the other Syrian.
Naqqash Jaleel is a Sri Lankan working in Dubai, where he met Tareq on business. The two became fast friends and have extensively travelled the world on business and pleasure. In early 2011, they conceptualised Arabian Knights. "We both shared a great passion for authentic and top quality Arabic food and recognised a gap in the local market," says Naqqash.
"Sri Lanka's been doing so well after the war and with the continuous increase of tourists coming in from the Middle East it was an easy decision to exploit our special friendship and take some of the amazing Syrian/Arabic cuisine in its true authentic form to Sri Lanka."
"Sri Lanka is such an amazing place to be," adds Tareq, who happened to be in the country when we visited the outlet. "Such friendly people, and you guys are so open to new things."
The customer response so far has been amazing, they say, noting that the biggest response has been for the Shawarma. "unfortunately too many outlets in Sri Lanka assume that the Shawarma is just a roll of roti or bread with some meat and veggies stuffed in.
Couldn't be further from the truth!" smiles Naqqash. "We have a couple of master Shawarma chefs from Syria who bring in very specialised skills, along with a fantastic food prep and service crew of about 10 locals." It's a challenge bringing two very different cultures, styles and mindsets together, he adds, but it's one the entire team has heartily embraced.
Arabian Knights is open from 12 noon to 11pm from Tuesday to Sunday. It's on the Colpetty end of Marive Drive. So check it out for yourself when you're in the vicinity.
Follow @timesonlinelk
comments powered by

Disqus