Avurudu season in the past was when young and old gathered to engage in new year festivities and engage in traditional activities, but this trend is fast fading, as more and more Sri Lankans are driven away from such practices. This is particularly true of the younger generations for whom traditional activities hold no sanctity. Instead, they are drawn to computer games and the internet, which is causing an alarming rise in mental illnesses among young people, according to a medical specialist.
"One in every 10 children brought to the Psychiatric Unit at the Kiribathgoda Base Hospital, is found to be suffering from some form of mental disturbance, due to an addiction to gaming or the internet," Dr. N. Kumaranayake , a Psychiatrist attached to the Base Hospital said.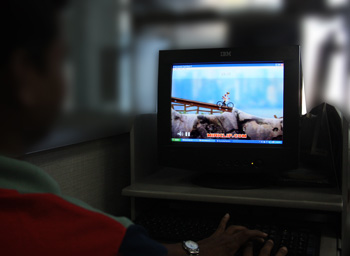 Dangerous: Addiction to computer games
Unsatisfied craving
He explained that what psychiatrists consider an addiction, is an unsatisfied craving for things such as drugs or the internet or electronic games, and is now considered a brain disease by the American Psychiatric Association.
Recent researches have shown that behavioural changes, as well as changes in the brain that occur due to gaming addiction, are similar to those seen in people addicted to alcohol and narcotics", he explained.
Gaming addiction, for example, can disturb the daily life of a person significantly, and addicts can neglect basic routines like eating, bathing etc.One such patient brought to Dr. Kumaranayake was suffering from serious depression. "This student had been exceptionally good in his studies, passing all his examinations well. His father had bought him a computer to help in his studies. Then he was introduced to a computer game by a friend, and started off by playing for about an hour. Later, he got completely addicted to it," Dr. Kumaranayaka explained.
Eventually, the boy was sitting at the computer, playing until two or three in the morning, neglecting his school work, while the time he spent socializing with relatives and friends became less and less, until he did not even bother coming out of his room.
The addiction caused emotional conditions such as extreme anger, stress, restlessness and headaches, whenever he was not playing computer games. The parents were puzzled by the boy's behaviour, until they were forced to consult a psychiatrist, to seek a remedy for his condition.
Dr. Kumaranayaka explained that, as many of these computer and video games are violent in nature, with shootings, killings and brawls. The brain activity of a child assumes the mindset of the character in the game, which can lead to mental illness.
He said that parental supervision is essential in such situations.
My favourite game
The Sunday Times spoke to some gamers to get their opinion on the matter.
Nineteen-year-old Tharuka said she plays popular games like 'Barn Buddy'. I really cannot say it is an addiction, but it helps me a great deal in relieving stress as well as affording me enjoyment," she said.
Ms. A. Piyari, a private sector employee, said that she first started playing computer games when she was schooling, to overcome her loneliness at home. She soon got addicted to it and started neglecting her work and bunking school, to play computer games. It was only after she got poor grades in her Advanced Level examination, that she realised that, if she hadn't spent much of her time gaming, she would have fared better.
Achalanka, who is in his twenties, said that, he was into a social game called 'City Ville' on Facebook, where the players are supposed to build a city and improve it. "As I enjoyed the game a great deal, I started playing it regularly, until I began spending every minute of my leisure time on gaming," he said.
'Prevention is better than cure', for this condition, as it is wiser to take steps to avoid such diseases, than finding cures for it, Dr. Kumaranayake said.
He added that engaging in sports activities, or aesthetic activities such as singing, dancing or drawing is recommended. "A close relationship between parents and their children, and spending more time on family outings will help children escape from their hectic and busy lives," he said.
Especially during this Avurudu season, parents should encourage their children to try out playing 'Avurudu games' that would keep them away from the computer.