Air pollution is set to get worse with the use of low quality diesel, warns Air Resource Management (AirMac) Director Anura Jayatilleka. Sulfur in fossil fuel is one of the worst air pollutants, and this is high in the diesel used in Sri Lanka.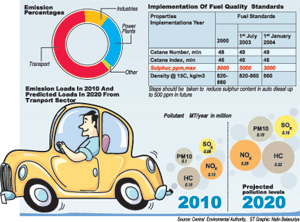 The level of sulfur in diesel is 3,000 parts per million (ppm) at present. This was as high as 8,000 ppm in 2000, but fuel quality standards managed to reduce this level to 5,000 ppm by 2003, and to 3,000 ppm by 2004. But this has to be further reduced to 500 ppm, recommends Mr. Jayathilake.
Most of the diesel used in Sri Lanka has been refined at the refinery in Sapugaskanda, but there are problems in expanding and upgrading the facilities there, in order to further refine the diesel. The AirMac Director also said that they are working closely with the Finance Ministry to find a solution to further upgrade the quality of the diesel.
If we do not implement high fuel standards, the impact on health and the environment will be serious in the long run, warn experts. Results of a study by Prof. O.A. Illeperuma, released at a workshop organized by the Centre for Science & Environment (CSE), together with TVE Asia Pacific, on Challenges of Clean Air Quality, revealed that excessive breathing of polluted air can cause wheezing, asthma, headaches or nausea. Prof. Illeperuma said his survey indicates that 45% of those seeking outpatient care in two leading hospitals is for the treatment of the respiratory diseases. Pneumonia and influenza are ranked as the second leading cause of hospitalizations in Sri Lanka over the past five years, and is the second leading cause of death among children aged 5 – 14 years.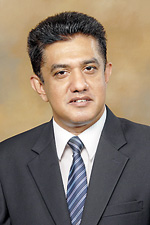 CEA chief Charitha Herath: Blue Sky 2020 will be a challenging task
Prof. Illeperuma's study also revealed that air pollution in rural areas is only one-fifth of that in urban areas, with vehicle emissions being most responsible for air pollution. This clearly indicates that to address air pollution, we need to address vehicle emissions.
AirMac was set up to get all stakeholders to maintain air quality, and has been active in setting up many positive steps towards this end. The vehicle emission test (VET) programme is one such endeavour launched with good intentions, but the programme has received many complaints, in that vehicles with serious emission issues are also given the green light. Mr. Jayatilleka says they are also looking at streamlining the VET programme at the moment, by checking VET certified vehicles with high smoke emission against their VET database. In case of a discrepancy, the vehicles will be summoned to the Department of Motor Traffic for further testing.
Meanwhile, the Central Environment Authority (CEA), in an attempt to manage the ambient air quality of the country, has designed a project titled 'Blue Sky 2020', to be launched at the end of this year. Its aims is to bring the country towards World Health Organization's interim targets by 2020, said CEA Chairman Charitha Herath. Air pollution caused by vehicle emissions is expected double by 2020, and hence, "Blue Sky2020" will be a challenging task, said Mr Herath.
Among vehicles, three-wheelers and motorcycles are the worst air polluters, with vehicle emissions causing 65% of urban air pollution. The CEA states that about 500,000 new vehicles are registered each year. According to the present trend, a 10% annual increase in vehicles is forecast, as per government estimates.
Though the situation is getting worse, the people are not aware of the harmful levels of air pollution around them, and the consequent danger they are exposed to. Mr Herath said that air pollution hot spots will be identified by BlueSky2020 and an air quality monitoring network established, covering major cities with Air Quality Display Boards, informing the public of the level of pollution.
The CEA also aims at studying air pollutant dispersion pattern in Sri Lanka, according to seasonal weather conditions of the country, as an exercise of BlueSky2020. Fuel economy standards should be developed to minimize air pollution by vehicle emission. Based on the standards, recommendations, regulations and fiscal policies, vehicle imports and vehicle fleet management will be formulated, and guidelines for mass transport network formulated for the period 2016 -2020.
BlyeSky2020 will also monitor air quality standards within the industrial sector, and ensure it is properly maintained.