Dr. Stella de Silva, one of Sri Lanka's best known paediatricians, passed away at her residence on Thursday (April 12). She was 93. Born in Balapitiya, she had her early education at Prajapathi Vidyalaya, Ambalangoda and Southlands College, Galle and then in an unusual arrangement between the Principal of Southlands and Richmond College, she was admitted to the exclusive boys school because Southlands did not have science facilities at the time.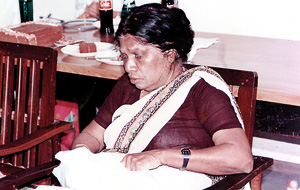 Dr. Stella de Silva
Despite parental objections at the time for a girl to do further studies in a university, Stella was encouraged by her well known elder brother, C.P. de Silva who was later to become a powerful Cabinet Minister. She entered the Medical College at the age of only 17. Her academic prowess earned her a scholarship and exemption from the one-year pre-medical course, which was part of the six year medical degree studies.
Graduating in 1942, Stella worked as a House Officer in Galle and Avissawella hospitals and then started a 7-year clinical training at the University of Colombo's teaching hospitals. She was greatly inspired by the country's first trained paediatrician, Dr. L.O. Abeyratne, who later called her his "best pupil ever" when her portrait was unveiled at the Lady Ridgeway Hospital.
Following a post-graduate training course in Britain, Stella served for as long as six decades as a much-sought-after paediatrician in Sri Lanka. In the meantime, she breezed through her examinations and was the first woman from all of South and South East Asia to obtain the double MRCP (London and Edinburgh). From 1959 she served as Consultant Paediatrician at th Lady Ridgeway Childrens' Hospital and the Castle Street and De Soysa Maternity Hospitals. Following a stint at the world renown Babies' Hospital in New York she returned to Lady Ridgeway as a Senior Paediatrician and Consultant before she retired from Government Service in 1973 at the age of 55.
She has been a President of the Sri Lanka College of Paediatricians, President of the Sri Lanka College of Paediatrics, President of the Sri Lanka Medical Association, President of the Sri Lanka Medical Library and Editor, Sri Lanka Journal of Child Health.
In 1985, at the age of 67 she accepted the post of Professor and Head of Paediatrics, North Colombo Medical College and it was only in 2003 that she retired from active practice. In later years, she became an active member of the Zonta Club and engaged in activities connected with children's and mother's health from the Mahaweli zones to tsunami victims.
Dr. Stella de Silva was conferred the national honour Vidya Jothi in 1994 for her outstanding contribution to science and medicine.
Her funeral takes place today. (Please see an article on Dr. Stella's brother C.P. de Silva on Plus Page 4.)