Four people were killed in three accidents over the New Year holidays. The accidents were reported from Gampaha, Galkiriyagama and Kotadeniya areas, police spokesman SP Ajith Rohana said.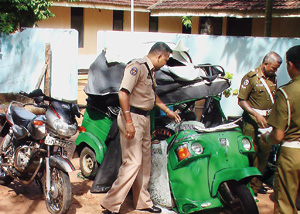 Damaged vehicles at a police station
"In addition, 40 persons were injured in 13 accidents, while 41 accidents were reported, where only the vehicles were damaged," he said. He said that the number of accidents this year was comparatively less than last year.
"Fifty drunk drivers and 135 speeding cases including negligent driving, were detected, while182 persons were also arrested for selling illicit liquor," he added. "The number of patients admitted to the Accident Ward of the National Hospital, Colombo, increased by 4% from last year," media spokesperson Pushpa de Zoysa said.
"Last year there were 212 patients, while this year the number increased to 223, out of them, 106 patients were admitted," she said. She opined that the causes for this increase was due to violence, which increased by 73%, and falls resulting from excessive alcohol consumption and other minor accidents.
She also said that the there was an 18% decrease in road accidents and a 54% decrease in domestic accidents.