The Department of Wildlife Conservation (DWLC) is discussing plans to establish the country's first ever crocodile park in Matara following the recent spate of crocodile attacks on the Nilwala river bank in the Malimboda area.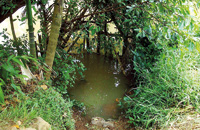 The spot from where Nuwanthika was dragged away. Pix by Krishan Jeewaka Jayaruk
"The Nilwala river has a considerable concentration of crocodiles and the DWLC has taken measures to create awareness among the public through local government authorities to prevent future attacks while the establishment of a crocodile park has been suggested by Minister Dullas Alahapperuma," Director Operations DWLC H. D. Rathnayake said.
Mr. Rathnayake said recent studies showed that crocodiles were moving closer to human habitats mainly because offal from meat shops were being dumped into the river . He said the Urban Council has been asked to take action to put a stop to such dumping in addition to keeping the banks clean.
The attacks reported within the past four weeks were in a 200 metre extent in the Malimboda area and it has been found that a lone crocodile was responsible for the attacks.
In the most recent tragedy an 18-year old schoolgirl, D. K. Nuwanthika Sathsarani, was dragged away by a crocodile as she stepped into the Nilwala river in the Malimboda area. Mr. Rathnayake said a trap was set up to capture the reptile which will then be re-located elsewhere.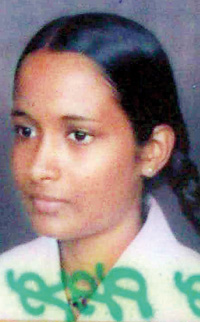 Nuwanthika: The latest victim
He said people should also be more cautious and avoid bathing in the areas where the attacks took place. However, well known herpetologist Anslem De Silva said relocating crocodiles was not a practical solution to the problem.
He said what was needed was proper crocodile enclosures in areas commonly used as bathing spots.
"People should also change their bathing places from time to time since crocodiles observe their prey for some time before they attack. So changing one's habitual bathing spots would help in the prevention of attacks. If that is not practical then there should be someone to watch out for crocodiles while others are bathing.
The people in the Kala Oya area are following this method and so far no attacks have been reported from the area," Mr. De Silva said.
He said about 30 crocodiles were found in a survey conducted by him in the area from Lands-end (Modara) within an extent of five kilometres upriver. The crocodiles were mostly found in the tributaries of the Nilwala River.