No New Year's Day to celebrate; no treacle covered kevums to give away; no auspicious times; no song to sing; in fact here's just another ordinary day. With apologies to Stevie Wonder, the famous song rings true not only for history's most famous political prisoner, Nelson Mandela, but also to hundreds of well-cured patients at Sri Lanka's premier hospitals for mentally ill people.
Take proper care of them: Dr. Mendis
National Institute of Mental Health Director Dr. Jayan Mendis cautioned that once a person affected with a psychiatric illness was cured the chances of a recurrence were high if proper care was not taken.
"Psychiatric illnesses are quite common and they are considered as long-term illnesses like diabetes and asthma. There are different forms of psychiatric illnesses such as depression. A psychiatric illness such as schizophrenia is a recurring problem but with treatment the patient could get better. If one doesn't take proper medication, even after he is cured the chances of him getting it again are high," he said.
The National New Year came and went, but they had no family reunion. For them, Avurudu is not the time when family ties are renewed and gifts exchanged. Hoping against hope, these people -- with fit-to-return-to-normal-life guarantees -- from doctors await someone from their families to take them home.
The pain is more for the left-behinds, when they see family members of other patients visit them or take them home once they are cured.
This is the plight of the well-cured patients at the Angoda and Mulleriayawa hospitals. Abandoned by their family members, some patients have died in the hospital. Jalien from Ethul Kotte has been in the Mulleriyawa hospital for 20 years. Completely cured now, she leads a normal life. But she appears to be sad within, with no family members to care for her.
"None of my brothers came to see me. I can cook and look after myself now and I want my brothers to come and take me home," she said. Wimala from Kandy says she has been in the hospital for nearly twelve years. She is completely cured, her doctors say.
"My brother didn't come to take me home. He was the one who brought me here. During this New Year season, I hope he will come to take me home," she said. Seetha from Galle has been in the hospital since 2002. In her case, her brother who brought her to the hospital visits her once in a way. Whenever he visits, he brings her clothes and food items. But she says her brother does not want to take her home.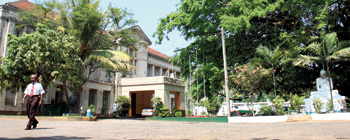 The Mulleriyawa hospital where abandoned patients long for family reunion
"All of my sisters and brothers are married. My sisters haven't come to see me. Many a time, I had wished I could be with them for the Avurudu," said Seetha who is now fully cured. National Institute of Mental Health Director, Dr. Jayan Mendis, who is in charge of the two premier hospitals, said one of the main reasons for family members to abandon mentally ill patients is the social stigma attached to psychiatric illnesses.
Unlike diabetes, arthritis, hypertension or other diseases which people would like to talk about and share notes, psychiatric problems are often frowned upon, Dr. Mendis said. "People don't like to discuss psychiatric problems or treat them as just another disease of the nervous system. Some people don't like to marry from a family if someone in the family had been treated for psychiatric disorder," he said.
The director said some patients had spent nearly 40-50 years in hospitals even after they had been cured.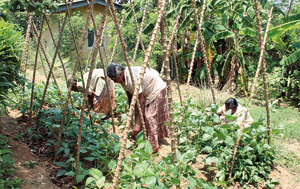 Rehabilitated patients attending to medicinal plants which they grow in the hospital premises. Pix by Indika Handuwala
Yet another social problem that amounts to a crime is attempts by some family members to misappropriate the property of mentally ill people.
"A person who has a psychiatric problem will have a share in a property or inheritance. While mentally ill patients are in hospital, their property, in most cases, is embezzled by family members. While they are in hospitals, their property or part of it is sold fraudulently and when they return home after being cured, they get only a small part of what is rightfully theirs," Dr. Mendis said.
He said disputes over or greed for property may be one reason why family members did not come to take them home after they were cured. Dr. Mendis said that in some cases, family members provide false addresses and telephone numbers when admitting patients to hospitals, thereby making it hard to trace the family when the patient was ready to go home.
He said not all mentally ill patients needed in-house treatment. Psychiatric services are available all over the country and if one is suffering from a mental illness, he or she could be taken to these centres and be kept at home.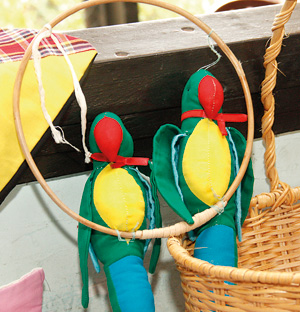 Skill development: Soft toys made by rehabilitated patients
To overcome the problem, hospital authorities and well-wishers have taken a series of steps. One such step is sending them to homes for elders. "We have transferred 76 patients from Mulleriyawa to elders' homes. We have also rented three houses in which 25 patients are sheltered," the hospital director said.
He said they had also launched a programme to train the abandoned patients in various skills, after they were completely fit to return to normal life.
Some are trained in domestic activities; some are found employment in tea and paper factories. Some former patients are taught hair dressing, according to the hospital director. "Some grow medicinal plants and make a profit which we put in their bank accounts," said Dr. Mendis. The Mulleriyawa hospital also houses a Halfway Home where patients are kept in an environment where they can lead a normal life.
Its matron, Hema Balasooriya, said that in addition to training the inmates in various skills, they were also taught what was necessary to lead a normal life. She said the inmates in the Halfway Home are in a state to be taken home, but sadly not many family members turn up here to take them home.
M.G. Padhma Malani, a nursing officer at the Halfway Home, said, "The best way to look after patients is to keep them at home and treat them like normal people. Like every one of us, they also need love and kindness. Society thinks they are worthless and does nothing.
"But it is not so. They can work and have a life of their own with a little help. What is sad is that families don't like to take them home because they believe these patients are a burden to them." Her views were endorsed by Stella Wragg, a volunteer worker at the Halfway Home. A Voluntary Service Overseas worker, she came here last month from England. "I think many of the ladies who live here can lead productive lives," she said.
Ms. Wragg said if they were taken home, their family members would realise that they were capable of looking after themselves.