It was the day before the National New Year holidays were to begin but last Wednesday turned out to be a day of high drama in several areas of the country including Colombo, Kandy as well as the coastal areas as a massive earthquake off the Indonesian island of Sumatra of 8.6 on the Richter Scale triggered minor tremors in many areas in the region, including Sri Lanka resulting in a serious tsunami warning being issued.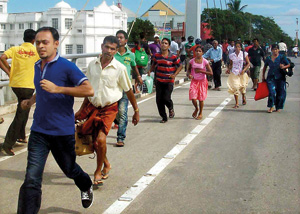 As in many other coastal areas, the people of Matara are seen fleeing for safe areas after the earthquake and tsunami warning on Wednesday afternoon. Pic by Krishan Jeewaka Jayaruk
The first news of the Sumatra undersea earthquake became known shortly after 2 in the afternoon when people living and working in high rise buildings in Colombo, Kandy and other areas felt minor tremors which led to the evacuation of these buildings. In Kandy, occupants of houses and buildings were seen running out in fear and as they watched helplessly in a state of confusion, reports from the hill capital said. In Colombo, too, there were similar scenes which were repeated two hours later when an aftershock caused more tremors.
The Meteorology Department announced a tsunami warning as much as thirty minutes after the earthquake occurred, raising fears of a recurrence of the 2004 December tsunami that stuck the north eastern, eastern, southern and parts of the western coastal areas of the country, following a similar undersea earthquake in close proximity to where Wednesday's quake took place.
TIME LINE : TSUNAMI SCARE
Wednesday, April 11, 2012
2.08 p.m. - Massive earthquake off the coast of Sumatra, Indonesia with tremors felt in the region including Sri Lanka, triggers panic of a repeat 2004 tsunami that caused more than 225,000 deaths.
2.38 p.m. - The Disaster Management Centre of Sri Lanka issues a tsunami warning, as much as 30 minutes after the earthquake occurred and several foreign television channels had broken the story.
2.41 p.m. - State television breaks the story, but continues with regular programmes.
3.40 p.m. - State television stops advertisements and regular programmes to provide tsunami warning coverage in Sinhala and Tamil until 6.15 p.m. No announcements in English.
4.13 p.m. - After shocks. Tremors felt in Colombo and elsewhere.
6 pm - Disaster Management Centre of Sri Lanka lifts tsunami warning.
Following Wednesday's quake, the Pacific Tsunami Warning Centre issued a tsunami watch for 28 countries in the Indian Ocean region, including Sri Lanka and India along with estimated time of arrival of high waves for towns such as Trincomalee and Mannar if a tsunami is generated. In the absence of any official information, rumours began spreading that it has been announced that Trincomalee will be hit by the tsunami at 4 pm that day and Colombo by 5 pm.
The National Tsunami Early Warning Centre of the Department of Meteorology issued its own bulletin which asked that people living near and along the eastern and southern coastal regions to evacuate to safe places immediately. The warning came around 3 p.m. and said that the announcement was being made in consultation with relevant national and international authorities.
News of a possible tsunami caused panic in mainly the coastal areas leading to cancellations of trains along the coastal line as well as bus services and prompting the authorities to open the Southern Expressway toll free for the day.
Last minute Avurudu shoppers who had flocked to towns along the coastal areas were seen running to higher ground while shop keepers hurriedly put up shutters. While many people moved to designated tsunami shelter areas, others sought shelter with relatives and friends. Many tourists as well as locals who had taken advantage of the long weekend and were holidaying in the coastal areas, especially in the eastern part of the island left in search of accommodation further inland.
In Matara more than 300 inmates from the Prison were moved to the Thihagoda Police station causing chaotic scenes. The measure was taken as many inmates from the Matara prison died as a results of the 2004 tsunami as they were trapped inside when the tsunami struck while some others escaped.
In Batticaloa, people from eight AGA divisions along the coastal areas were immediately evacuated with assistance from government authorities while the armed forces and special police teams were deployed in all areas to stop looting and assist in case of an emergency.
The tsunami warning was lifted at 6 p.m. on Wednesday but officials of the Disaster Management Centre (DMC) said the residents on the coastal belts were too jittery to return to their homes that night despite assurances that the tsunami warning had passed.
The use of SMS (short message service) that has been earmarked for a tsunami drill however was not used throughout the warning other than by private media outlets.