On the 20th of September 2000, we started our AL – MANAR International School with only 27 students and a few teachers. The location was the ground floor of the owner's residence. We did not have some of the basic requirements that an educational institution should. But like a seed planted on a dry soil without a drop of water started showing hard to grow amongst thorns and bushes to become one of the leading Secondary International Schools in the Colombo district.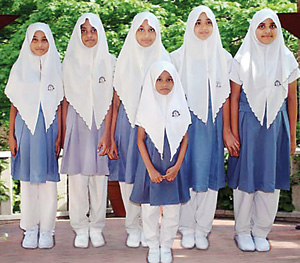 F. Kanza Fahim, F. Sajidha Yoosuf, Azra Nazardeen,
F. Sara Yassim, F. Rukaiya Mohideen,
F. Safiya Sirajudeen.

The proficiency level and the skills required in a language depends on listening, speaking, reading and writing abilities in that language.
Therefore, we started in the early stage of our education, these four basic skills, listening, Speaking, reading and writing.
The Student population began to grow by heaps and bounds and it resulted in an increase to 500 within a two years period.
We provided facilities to conduct a creative Art exhibition to exhibit their inner talents. We also provided to annual Sports meet an the Athletic Competitions.
On the literary side, we provided annual concert programme, Islamic day and English day activities.
We have already started our School Football team and we played two or three matches against other Schools. We have also formed our Cricket teams under 13, 15 and 17 yrs to be trained early next year.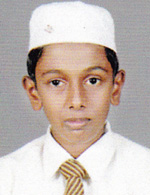 Abdul Muheedh.
Next stage of development was a very difficult task for us. We were forced to look for a separate location for the boys.
Therefore, we shifted them to an ideal location within Dematagoda to a four stories – building where the classrooms were spacious and airy. Thereafter, the Secondary girls Section too was shifted to another peaceful location.
Al – Manar International School is a well established Secondary School where a strict disciplinary code is enforced. Our motto is "Strive for Excellence". Teachers, Parents and students move here like family members with better understanding.
Teachers work hard dedicating themselves into a systematic work for the development of the School and the students.
May Allah bless our students to lead a happy and prosperous life in future as good and law abiding citizens of this country.