SLIIT, a pioneer in the education arena of Information Technology in Sri Lanka, recently introduced the B.Sc Interactive Multimedia Design Technology degree programme as a specialisation to the institutes existing B.Sc in Information Technology B.Sc. (IT) degree programme with the expertise of Professor Klaus Schmidt, visiting professor from the Institute of Technology, College of Applied Science and Technology - Illinois State University, USA and visiting Fulbright Senior Specialist at SLIIT.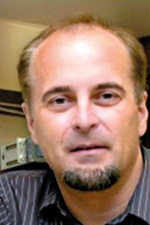 Dr. Mahesha Kapurubandara - Dean Student Affairs
SLIIT's three-year B.Sc in Information Technology degree programme, approved by the University Grants Commission, allows students who successfully complete the two year Diploma in Information Technology degree at SLIIT the option of completing the B.Sc IT degree (IT Specialisation) or B.Sc IT degree (Interactive Multimedia Technology specialisation) at SLIIT or at several of SLIIT's partner Universities in the UK, USA and Australia. Students who have passed the GCE (A/L) examination (Local/London) in one or more subjects and secure a pass in the Aptitude Test conducted by SLIIT are eligible for this degree programme.
The newly introduced Multimedia Technology degree programme will be part of SLIIT's Information Technology major and will provide specialisation in graphic design, multimedia and animation streams. This degree programme is an internationally recognised, multi-disciplinary degree that bridges the fields of design communication, information technology and business.
The programme balances a practical approach to skills development and provides a solid basis in theoretical and conceptual training to meet the demand of the market, thereby enabling students to become industry leaders. On completion of this degree students will have hands-on experience in Digital Video (pre and post production) with 3D modeling and Animation technology, 3D web designing and development, Gaming technology, interactive multimedia, marketing technologies and Multimedia project management. The minimum admission requirement for this degree programme is successful completion of the Diploma in IT from SLIIT.
Speaking in this regard, Professor Schmidt elaborates that "Sri Lanka has a strong market potential for growth in the area of multimedia technology, and SLIIT is well positioned to prepare its Information Technology students for jobs in that expanding field." Schmidt, a visiting Fulbright Senior Specialist at SLIIT this month, will conduct a 40-day project which will involve studying the current market needs for multimedia expertise in Sri Lanka and assessing the institute's current curriculum and technology resources. Curriculum development will focus on courses covering multimedia technology, interactive computer modeling, animation, game development, multimedia project management and digital media production techniques with advanced animation and post-production with special effects. Schmidt will also conduct teaching workshops with SLIIT faculty members to familiarise them with the newly developed curriculum materials.
"SLIIT students have much to benefit through the institutes B.Sc in Information Technology degree programme, as our academic offerings, facilities and industry and academic links provide a vital ground for moulding students to take on today's challenges within the constantly evolving IT industry" states Professor Lalith Gamage, President and CEO of SLIIT.
"There is tremendous demand for interactive multimedia specialists and web developers in Sri Lanka. The time is right to introduce this specialisation for the B.Sc in Information Technology degree programme as it is a great asset to the industry" observes Dr. Mahesha Kapurubandara – Dean, Student Affairs of SLIIT.