Vidyartha College clinched the Asian Finance Trophy which was on offer at the inaugural Mini Rugby Carnival organized by Ananda College Colombo. The tournament took place at the Royal College Sports Complex on December 17 with the participation of 30 teams. Three hundred and sixty young rugby players took part in the contest.
Vidyartha beat hometown rivals Kingswood by 14 points to 12 in the final of the Under-13 Cup final while in the Under-12 age category they clinched a double by beating St. Joseph's in the final. Vidyartha scored 19 points in the Under-12 Cup final while St. Joseph's recorded 12 points.
In the Under-13 category Prince of Wales' won the Plate championship beating Nalanda by 28 points to nil. Hosts Ananda won the Plate championship in the Under-12 age category when they edged Kingswood by a thrilling 7 points to 5 in the final.
The tournament was conducted among rugby players of age groups of Under-9, 10, 11, 12 and 13. The tournament was organized by the Rugby Union of 2000-2006 of Ananda College with the intention of popularizing rugby among the youngsters.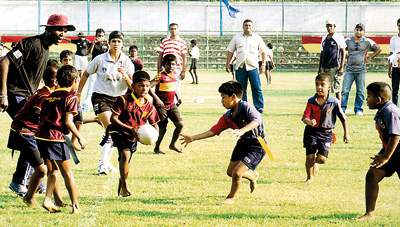 Action from the Under-12 Plate final between Ananda and Kingswood.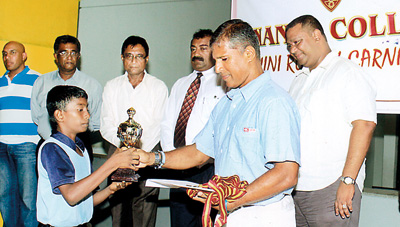 The Under-12 captain of Vidyartha receives the Cup trophy from IRB Educator, Dilroy Fernando.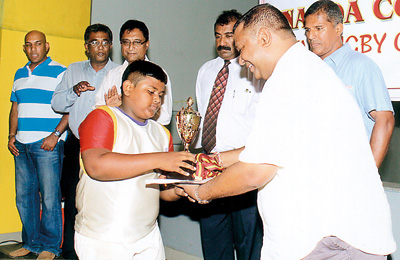 Prince of Wales' skipper receives the Under-13 Plate trophy from Sanathana Dalugoda, the CEO of Asian Finance.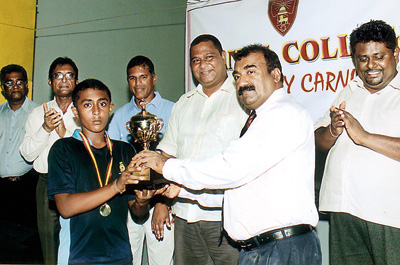 The captain of Vidyartha Under-13 rugby team receiving the Cup title from Ananda College principal, L.M. Dharmasena.