Haldumulla Tamil Maha Vidyalaya a distinguished Tamil schools in the Haldumulla Division has been providing good education to the Tamil society. The school was selected as one of the best up and coming schools among 30 schools in the district by President Mahinda Rajapaksa this year.
The overall performance in curricular and extracurricular activities brought the school to the limelight and they were presented with five of the latest computers, two electronic pianos, educational CD's and some library books by President Mahinda Rajapaksha. The ceremony was held on November 17 at Temple Trees.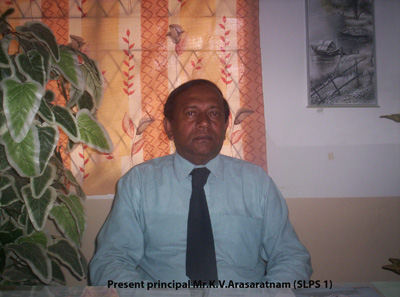 The school was first established in 1946 as a primary evening school for Tamil children in the Haldumulla division. Gradually they improved in studies and moved on to the present premises in 1974. The first principal was Mr.K.Jeevaratnam. In 1975 the first batch sat for the O/L examination (NCGE) and obtained 98% of results for the school. But due to the development of national schools, the children who could not afford travelling expenses left the school to seek better education.
The school at present has over 500 students and a qualified staff of over 25 teachers. The present principal is Mr. K.V.Arasaratnam (SLPS 1). The teachers and students have always been under the supervision of the principal.
In 2001 the school was placed under the Maha Vidyalaya group and was given permission to start the advanced level classes in Arts stream. They enjoyed 98% results from their first batch.
Haldumulla T.M.V. students involve themselves in all spheres of co-curricular and extra-curricular activities. The first sports meet of the school was held in 1989. Since then they have excelled in sports among the Tamil schools in the Haldumulla division. They have been at the top position consecutively for three years since 2009.
Haldumulla TMV students have shone not only in sports but also at Sinhala Language Day, Tamil Day, Art and dancing competitions and have brought Provincial level medals to the school. They have been winning the Gold, Silver and Bronze medals at the All Island Sinhala day competition without a break since 2008. They have won four provincial 1st places and two All Island 1st places in the Sinhala Day competitions 2010.
The school is situated in a beautiful and calm environment and equipped with a wide range of facilities and are strengthened by a dedicated group of staff. Their courage and dedication has paved the way to propel the school to reach their aim.
Now the school has been selected as one of the thousand schools to be upgraded as secondary schools in the future. Carrying forward the noble cause of the founders, Haldumulla T.M.V. is providing highest academic standards to educate the young Tamil children in the Haldumulla Division. It's a joint effort and commitment of the Principal, teachers and students, working together to bring them success.
- Sujitha Miranda