Mr. Stuart Young, Chairman of Kotmale Holdings, conducted a session on "Leadership in the Sri Lankan Context," to the inaugural MBA batch of APIIT Graduate School on Tuesday 6th December 2011 at the APIIT City Campus. A few prospective students of the MBA 2012 batch were also present and were actively taking part in the discussion.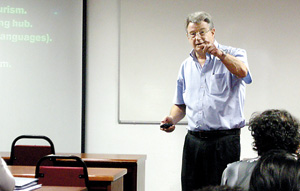 Mr. Stuart Young, Delivering the lecture on "Leadership in the Sri Lankan Context"
This informative session included important areas for aspiring business leaders in the MBA programme, such as 'The Business Environment in Sri Lanka', 'Management in Sri Lanka' and 'Soft skills for managers as in Sri Lanka'. While highlighting "seismic" economic power shift, Mr. Stuart Young explained the current business setting and how dramatically it has changed over the last few decades. He spoke about Sri Lanka in a positive note where he emphasized the great potential we have as a fast developing nation.
Furthermore, Mr. Stuart Young discussed the potential drivers of the Sri Lankan economy, encouraging future entrepreneurs of the APIIT MBA batch to be a part of this tremendous development drive. He explained the characteristics required of Business Leaders in today's business world, providing an insight to the MBA students about personal development. This thought-provoking session was enriched by the contributions from current MBA students as well as prospective students. Finally, a question and answer session and a presentation of a token of appreciation by Mr. Chamila Illukkumbura of the MBA batch, concluded what was an immensely interesting and invaluable evenings programme.
This Industry Seminar by Mr. Stuart Young is yet another endeavour by the APIIT Graduate School to provide a transformational learning experience to MBA students. APIIT Graduate School is dedicated to providing a unique learning experience to students characterized by experiential education, overseas residential workshops and global networking opportunities. A series of industrial seminars with eminent guest speakers to share their experiences and knowledge in different areas have been lined up for the next academic year enhancing the experiential education of the MBA programmes. Some of the unique features of the masters degrees offered at APIIT Graduate School are: Internal British Masters Degrees, Flexible Program Delivery, Highly committed Academic Faculty, Industry Focused Dissertations and Excellent Student Support.
APIIT Graduate School was established with the aim of producing highly competent professionals who are globally competitive in the relevant fields and contribute to the socio economic development of the country. In order to achieve its mission, APIIT Graduate School offers up-to-date, internationally recognized Masters Degree programmes with curricula adapted to the needs of the local industry and commerce.
With its strong international relations, global standards and a single-minded focus on quality in higher education, APIIT has emerged as the higher education institute of choice to achieve one's dreams and career goals. Surely, it's more than a degree that you will receive at APIIT.