Professor Ranjan Premaratna, Head of the Department of Medicine, Faculty of Medicine, University of Kelaniya, has been invited to talk on Rickettsial Diseases at the Conference of the Federation of Infection Societies in mid-November in Manchester, United Kingdom.
This is a rare distinction afforded to a local scientist. Prof. Premaratna who is currently involved in research in Rickettsial diseases, has established research collaborations with the Centers for Disease Control and Prevention, Atlanta, Georgia, USA, Texas University USA and Australian Rickettsial Research laboratories.
Rickettsial disease is transmitted by ticks, mites and fleas and brings on high fever. If untreated or missed, this disease can affect the brain, heart or other organs of the body and carries a high risk of death in Sri Lanka.
He has received a short period of training at the Centre for Disease Control in Atlanta Georgia, USA, under Dr. Gregory Dasch and established his own research and diagnostic laboratory at Kelaniya's Faculty of Medicine. Since establishment of the laboratory, he has diagnosed this infection in many patients.
He has presented his research findings at several international meetings in the US, France and Greece and published several scientific articles in reputed international scientific journals. His other research activities include dengue fever and malaria.
Pera Uni alumni annual get-together
The Alumni Association of the University of Peradeniya, Colombo Chapter will hold its annual family get-together for 2011 at the Rock House, Gangarama Road, Piliyandala on November 13 from 9.30 a.m.
An array of activities, games for young and old, competitions, prizes and surprises have been lined up. Music will be by Mahanama Wickramasinghe and his group with vocals by Jayalath Manoratne, Nissanka Diddeniya, Mahanama and Mark Antony of Sinhabahu fame.Tickets are available with committee members of the Colombo Chapter and at the gate on the day.
Evergreen Night 2011 - All set to rock the town
'Evergreen Night 2011', the annual dinner dance organized by the Isipathana College "Group of 86 -87-88" will be held on Friday, November 11, from 8 p.m. onwards at the Sapphire Ballroom, Ceylon Continental Hotel.
This glamorous evening is expected to draw around 300 distinguished old Pathanians. The band Black will provide the music backed by DJ Lakshan while the energetic Isipathana stalwart Faizal Bongzo will be the Master of Ceremonies.
The organizing committee has planned an evening of fun and entertainment, with loads of prizes and surprises. Proceeds of this event will be used to fund and support sports and academics at Isipathana College including much needed scholarships to deserving students.
Please call Aruna - 0777 792484, Afzal - 0777 273120, Prince - 0777 730220, Rajeeve - 0777 729009 or Sanjaya 0777238753 for details.
Thilina urgently needs a bone marrow transplant
The mother and child are in Chennai, India, for the child is suffering from a rare inherited bone marrow failure syndrome, for which the answer is a bone marrow transplant.
Pathetically, they have run out of money and frantic were the calls R.M. Chandrika Siriwardane (Phone: 00919884575824) who has already lost three of her children to the same disease, is making to the Sunday Times. Her fourth, Thilina too is suffering from Congenital Aplastic Anaemia also known as Franconi Anaemia. Please tell your readers to help us by sending money to our account, says Chandrika from Gaalmedigoda, in Bandarawela while husband Punchi Banda is desperately trying to find money to meet the soaring bills in Chennai.
Kind donors may send in contributions to Account No. 8800010290 at the Bandarawela Commercial Bank in the name of R.M. Punchi Banda.
Healthy Life Clinic hosts annual Diabetes Awareness and Prevention Programme
Diabetes Type 2 is the fastest growing chronic disease in Sri Lanka and worldwide. 14% of our population suffer from this disease and it targets the old and the young, the rich and the poor equally.
The Healthy Life Clinic - is hosting its Annual Diabetes Awareness and Prevention Programme this year on November 12 from 9 a.m. to 1 p.m. on the Galle Face Grounds.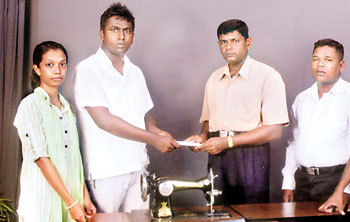 M.N.N.Nawas donated a sewing machine to disabled soldiers of the Engineering Corps on October 23 at Maharagama
"Healthy Living Prevents Diabetes" will be a large fair, the first of its kind targeting especially young adults. This event will showcase activities, discussions, products and pointers on Healthy Living, to educate, guide and motivate the public, guiding them through a road map for preventing diabetes which is essentially a healthy lifestyle.
Experts from the field will be giving health snippets throughout the programme. There will be healthy food and drinks showcased that can be sampled and purchased. Sports and fitness instructors will educate the public on the best footwear and other gear as well as the best forms of fitness exercise. The new dance-exercise craze, zumba, will be demonstrated and relief from stress and yoga will be explored.
Entrance to the programme is free and open to all. There will also be free assessment of blood sugar and blood pressure. Check out your risk of developing diabetes or heart problems and see how fit you really are. The kids zone will also keep the little ones busy.
The event has been made possible with the partnership of socially responsible corporates, such as Prima, Maliban, Ceylon Cold Storage, Galle Face Hotel, Zesta Tea, Brandix, Tata Communications, Powerworld Gyms, MTV, Janashakthi Insurance, LCBL, Roots and selected pharmaceutical companies.
A course for archaeology enthusiasts
The Maritime Archaeology Unit and archaeology.lk is organizing a short course from December 5 - 9 at Galle to foster public awareness on saving our underwater cultural heritage. The target participants are those with PADI or similar licences who dive as a hobby.
The Maritime Archaeology Unit (MAU) of Sri Lanka is the only authorized institute engaged in underwater archaeological field work. They hope to give the opportunity to participants to engage in field work under the supervision of qualified maritime archaeologists. Participants will join archaeologists, who are working on some interesting shipwrecks in the Bay of Galle.
The course which will include practical diving sessions, field work and associated lectures is limited to 10 participants. For more details visit http://www.archaeology.lk/archaeodemo/
Familians of '79 reunite
Holy Family Convent, Bambalapitiya, class of '79, recently held a reunion after 35 years at Hotel Tangerine, Kalutara. It was a happy event of exchanging school day memories and playing childhood interval games in the hotel grounds.
Later the participants held a champagne toast alongside a cake in the shape of the school uniform. There were 27 participants from Sri Lanka and abroad along with their families. A prayer and two minutes silence for three departed class mates, the late Christobel Outschoorn, Sonali Gooneratne and Marianne Deckker was observed.
The reunion also included visiting the alma mater the next day which included visiting the school grounds and former classrooms.
Beta Interferon Therapy treatment
A. Nimal, 57 currently employed at MCB Bank Ltd as a SWIFT Machine operator in the grade of Junior Officer and his wife who is unemployed have three girls aged 21, 17 and 14 years.
In 2010 their eldest daughter A.H.G. Chamica fell sick and investigations done at the Colombo National Hospital Institute of Neurology under the supervision of Dr. Mrs. Padma S Gunaratne , Consultant Neurologist and Dr Arjuna Fernando Resident Neurologist, Neurology Unit, National Hospital Colombo have revealed that she is suffering from Relapsing/Remitting Multiple Sclerosis, a rare neurological disorder.She is required to undergo a course of treatment known as Beta Interferon Therapy.
This drug is imported to Sri Lanka and the cost of this treatment which has to be administered over a period of two years is approximately Rs. 3 million. Their friends and colleagues at MCB have raised Rs 300,000/- approximately to start the treatment They still need Rs. 2.7 Million. The following bank accounts have been opened to receive any kind donation. MCB Bank Ltd, Main Branch, Acc No: 001101007120-- Mr. A Nimal and Ms. A.H.G. Chamica Bank of Ceylon , Metropolitan Branch, Acc No: 701061872443235-- Mr. A. Nimal and Ms. A.H, G. Chamica
Benedictine Requiem Mass
The Religious Committee of the Old Boys' Union of St. Benedict's College will have their annual Eucharistic celebration in remembrance of members of the Benedictine family who have passed away on Tuesday, November 8 at 6 p.m. at the College Hall. The Benedictine fraternity is invited to attend with family members.
Christian unity rally for Christmas
In the afterglow of the Christian Unity Rally for Pentecost, the Inter Church Fellowship (ICF) will conduct a Christian Unity Rally for Christmas on Saturday December 10 at the Cathedral of Christ the Living Saviour from 9 a.m. to 1 p.m. The ICF comprising clergy and lay people of about ten denominations is on a mission for Christian unity in diversity as a first step towards lasting peace, justice and unity in our country and in the world. For further details please contact 2325166, 2583580 or 077-3613888.
Don't miss NAPSL exhibition
The National Association of Photographers- Sri Lanka (NAPSL) is holding its first local digital projection image photographic exhibition today, November 6 at the BMICH at the ' Image Today' photographic trade exhibition.
The exhibition features 150 photographs chosen out of hundreds submitted for the competition organized by NAPSL.