While interviewing Miranda Hemalatha, chairperson of Diri Daru Piyasa (a school for children with special needs), students peek into her office, linger by the door and then scamper away- daunted by the stranger she's speaking to. Thirteen-year-old Danangi Fernando is a bit bolder. Dressed in her dancing attire, her hair in a long braid, she tiptoes into the office and gives her principal a hug.
Returning her embrace, Miranda explains that children with Down Syndrome are very affectionate and need a little extra love and care. If they are brought up in an environment in which they receive the love and attention they require they are more likely to develop faster.
Danangi is one of those lucky children. Her devoted family was able to help in her development and provide her with the support she needed. As a result Danangi is now a Kandyan and Bharatha natyam dancer and has mastered her motor skills. She speaks as fluidly as she dances and last month presented her second solo dance concert at the Bishop's College auditorium.
Guiding her steps:Danangi with Miranda Hemalatha and right performing at the Bishop's College auditorium. Pix by Nilan Maligaspe and Indika Handuwala
However, most children with Down Syndrome live a life quite unlike Danangi's. Their mental development which is already hindered by their genetic make-up is further hampered as parents who are ill- informed about their condition tend to harass them or resort to corporal punishment in a damaging attempt to teach them. This, shares Miranda, is a common occurrence, adding that what's worse is these children are more vulnerable to sexual abuse.
What places them at greater risk of being taken advantage of is their under developed cognitive skills which is attributed to a mutation in their genetic code. The disorder occurs when an individual has an extra copy of the 21st chromosome. We should have two pairs of chromosomes ideally but for those with Down Syndrome- their genetic code would consist of three copies of the 21st chromosomes. The effect of having that extra chromosome is immense.
A veteran dance teacher Miranda has worked with children with Down's Syndrome for almost 12 years. As a former director of aesthetic education and celebrated traditional dancer, Miranda drew from her knowledge as an educationist, her skills as a dancer and creativity to construct an effective method to develop their cognitive and motor skills and provide these youngsters with a chance to live a normal and competent life.
"The first thing you try to develop is tactile development- touch. Fingers and hands," explains Miranda, demonstrating some basic exercises. "You get children to use their hands in the Montessori and this is the same principle. The problem these children have is that their hand and eye coordination is very poor."
Miranda describes how she first put her hypothesis to test with well known performing artist- Kosala Dullewa. While he is afflicted with Down Syndrome, Kosala has performed traditional dances in the USA and showed the world that the only thing preventing individuals with the disorder from progressing is the preconceived notion that they can't develop further.
"My first experiment with Kosala helped me understand that dancing could be used as a therapy for this condition," elaborates Miranda. "Not only Kandyan dance but Bharatha Natyam and various other Indian dancing techniques have very good exercises. I chose certain exercises- hands and mind coordination. Now with these movements I use music. Whatever they do I call it dancing and they have to move to a certain given music piece. We selected certain pieces of music with a rhythm and mood that moves them to dance. This experiment became a great success."
"Once they come up to a certain level, suddenly they will bloom! After so many years of remedial teaching- that is the starting point for us," says Miranda adding that all children with Down Syndrome can be brought to that level, though at different times. While one may take two years, another might need 5 years.
"Each child will vary in their ability to take in the information- so teachers should know how to creatively take each child to the next stage and they should have a great deal of patience," she says.
Developing their cognitive and physical abilities is only a part of Diri Daru Piyasa's main objective. Their overall objective is to enable the children enrolled with them to become independent. The children spend a greater part of the day learning how to sew- colourful rugs, bags and cushions, as well as learning fabric and pottery painting.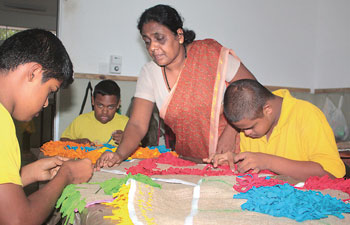 Learning other skills: A craft session in progress
However sale of these items still wouldn't amount to a reasonable income and they would need a support system nevertheless. This thought led Miranda into dreaming up a village for those with the genetic condition. "We have one acre of land in Kindelpitiya. For now we plan to build a 16 room hostel for the children who travel from far. But we hope that sometime in the future we could build a village in the area, in which they could take part in agriculture- grow their own vegetables, they can stay there once their parents pass away so they won't need to be dependent on their siblings and relatives."
That's the long term plan that will require much needed funding. Right now, the hostel is a hefty project by itself. Miranda explains that doctors recommend each occupant have a room of their own with an attached toilet as since till they reach a certain stage of development they have little or no control over their bowel movements and bladder. The construction of a single room is estimated at Rs. 300,000. The more affluent families have paid for rooms for their children, but Miranda says those from less privileged backgrounds are unable to scrape together as much. At the moment Diri Daru Piyasa is on the lookout for donors who will be able to fund the construction of at least one room.
Contributions in the form of sports goods will also be welcome. "A carrom board is what we need as it will help them develop their hand-eye coordination as well as the flexibility of their fingers. We could use footballs and netballs and maybe a hoop as well." She adds that donations can also be in the form of pencils, pastels, colouring books, or funds for midday meals. Miranda explains that they've been getting by with the support of their friends and relatives who've been kind enough to donate to the cause.
There are currently 57 children enrolled at Diri Daru Piyasa. Apart from developing their mental and physical abilities, teaching them in preferred vocations, providing them with therapy and meals, there are a magnanimous few who've stepped in to help. They include Dr. Jagan Kumar who extends his services free every month by conducting medical check ups for those enrolled. Others have helped in taking the children on fully paid recreational trips.
With organisations like Diri Daru Piyasa more children with Down Syndrome can develop to the level of Danangi; who at the end of the interview has seated herself beside Miranda. Like most little girls Danangi bashfully answers questions with nods or 'yup' about her recent performance at the Bishop's College Auditorium. It's only when Miranda asks her about her favourite restaurant that Danangi sits up with a jolt and a wide grin saying she loves KFC.